There's no shortage of places on Cape Cod for music lovers to enjoy live performances, as the region lends itself to all types of venues, hosting genres from jazz to classical. Whether it be at an outdoor amphitheater or a cozy restaurant lounge, it's easy to find spots across this sandy peninsula to relax and listen to tunes.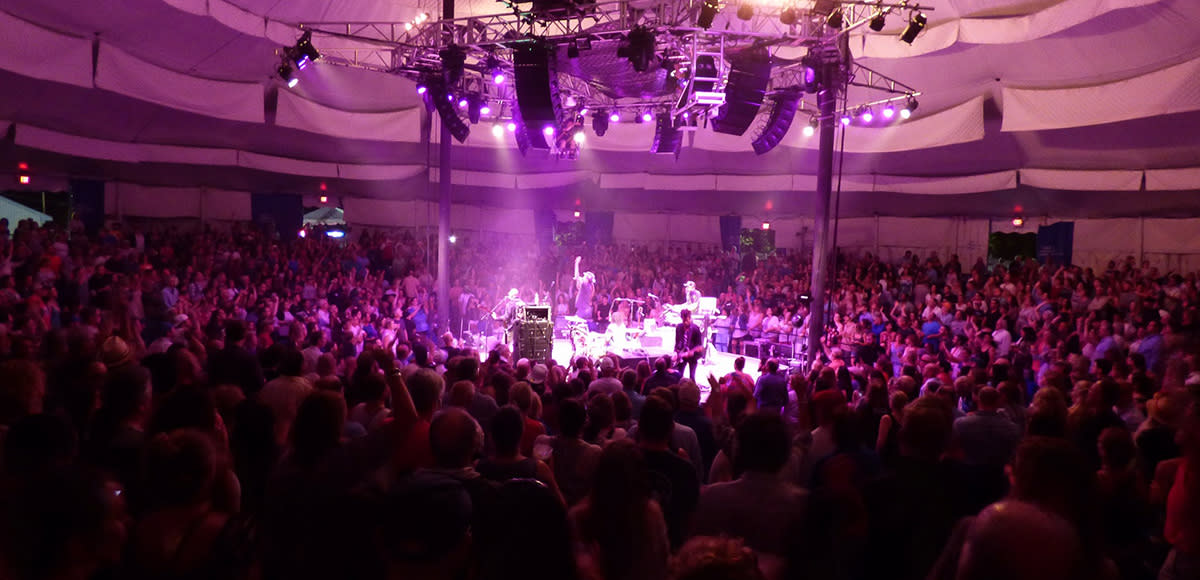 The Cape's Notable Venues
Located in an oversized canvas tent, the Payomet Performing Arts Center in Truro is a top Cape Cod locale for seasonal live music and theater performances, covering a range of sounds from Celtic and blues to iconic musicians the likes of Rickie Lee Jones and Los Lobos.

Over in downtown Hyannis, world-class performers have been taking center stage at the 2,300-seat Cape Cod Melody Tent (pictured above) for over 60 years. The star-studded line-up has included such greats as Aretha Franklin, Melissa Etheridge, Lynyrd Skynyrd, Huey Lewis and Blues Traveler.
Provincetown's Crown & Anchor has been a hub of entertainment since the turn of the 20th century. Their venue spaces include the Cabaret, where many of the town's top drag queens perform, and The Dive Bar (formerly the Restaurant Bar), known to locals and visitors alike for its nightly piano revue. Headliner Bobby Wetherbee is a Ptown icon who has entertained crowds for more than six decades with singalong favorites from Broadway and beyond.

The Cotuit Center for the Arts keeps the beat going all year long, with musical acts ranging from an in-house a cappella group and burlesque shows to Broadway musicals and Wine Wednesdays, a gallery open house with wine and live music. And  Cape Cod's very own professional orchestra, the Cape Symphony, presents rousing year-round performances of everything from Broadway classics to popular movie soundtracks  at the Barnstable Performing Arts Center in Hyannis.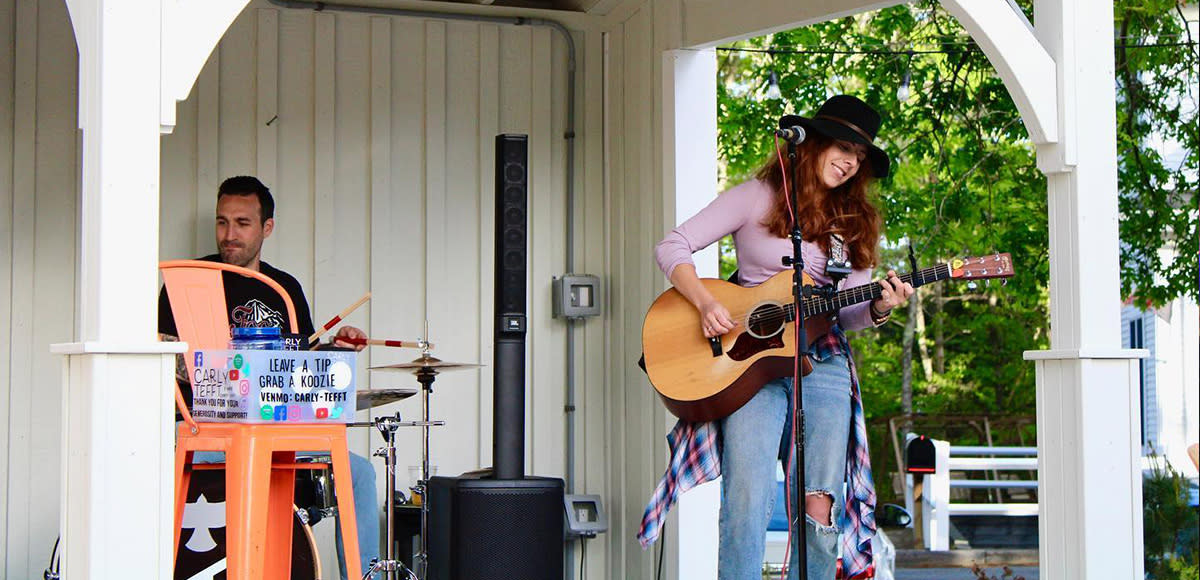 A Bite and A Tune
Music and dining go hand in hand, and a favorite pastime in the warmer months on Cape Cod is relaxing to live music while you dine alfresco. There are ample opportunities to do this, among them Chapin's Fish & Chips in Dennis Port, Beachcomber in Wellfleet and The Pilot House Restaurant in Sandwich, where a "flip flops welcome" vibe and casual menus are accompanied by local entertainers.
The music doesn't stop when summer ends, though. Harvest Gallery Wine Bar off 6A in Dennis combines the best things in life with craft spirits, local art and a thoughtful menu enhanced with live music that includes jazz, bossa nova, country and soul. Falmouth is home to Liam Maguire's Irish Pub, where a revolving lineup of performers keeps the beat going, including the soulful Daniel Byrnes, who takes the stage for the resrtaurant's Sunday brunch. Also in Falmouth, Bad Martha's Farmer's Brewery has an expansive patio with a firepit and plenty of seating. Enjoy one of their craft beers plus a bite to eat as you listen to live music every weekend during happy hour.
At The Club in Provincetown, you'll find not only sweeping harbor views from the alfresco patio dining, but also live music six nights a week. Dance the night away on The Club's state-of-the-art infinity dance floor. Cape Cod Coffee's location on Route 130 in Mashpee features live music from local artists often on weekends.The restaurant (pictured above) features a spacious outdoor area where entertainers perform, and offers a full menu of coffee drinks, noshable dishes, craft beers and classic cocktails. Other great spots to air out those dancing shoes to live music are The Chatham Squire, Scally's Irish Ale House in Yarmouth, the Boatslip in Provincetown and Cleat & Anchor in Dennis Port.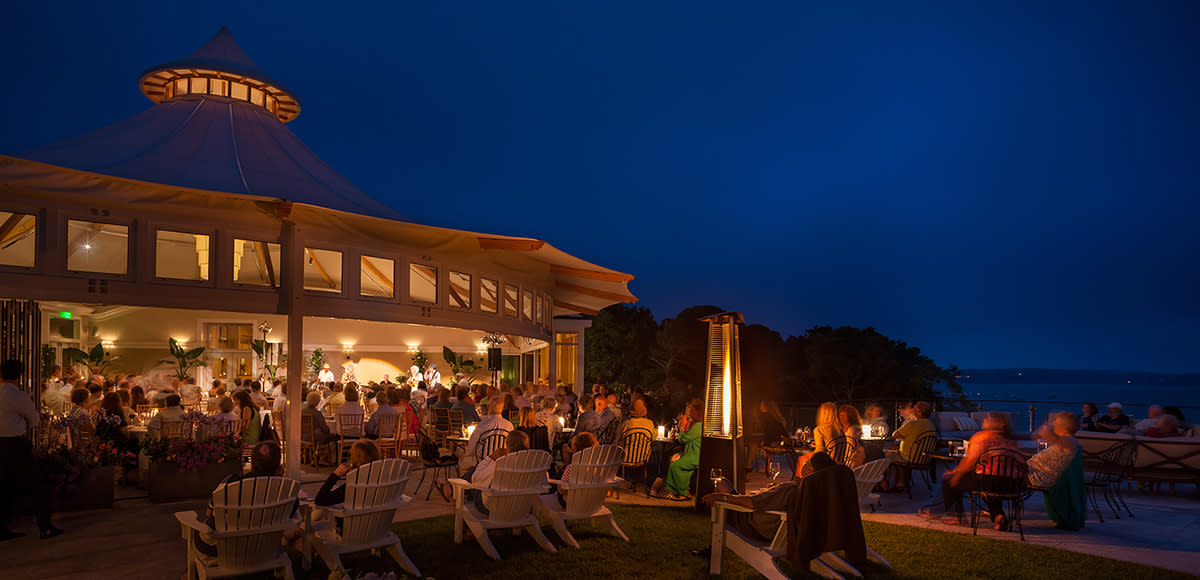 All That Jazz
Lovers of jazz music won't want to miss the Cape's signature summer events. At Wequassett Resort & Golf Club, the annual Cape Cod Jazz Festival (pictured above) is approaching two decades of wooing listeners with champagne and dancing under the stars to the sounds of today's greatest jazz musicians. Likewise, the Provincetown Jazz Festival, held every summer, has been bringing well-known jazz musicians from around the globe to Cape Cod since 2005.

While in Hyannis, swing by the Grand Cru Wine Bar at the Cape Codder Resort on the weekends for a rotating list of innovative jazz bands. Their extensive global wine list and classic cocktails are the perfect complement to your entertainment.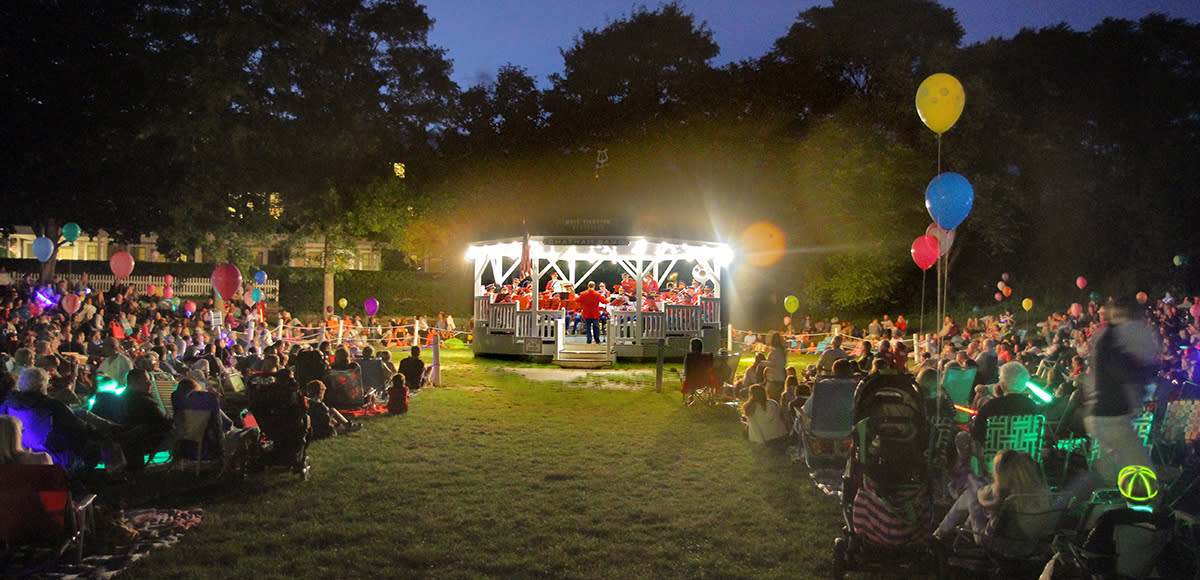 Out on the Town
Many Cape Cod towns also sponsor seasonal concerts and outdoor performances loved by locals and visitors alike. Harwich's Port Summer Musical Stroll Nights encourage listeners to stroll and explore galleries, boutiques and restaurants while live musical groups entertain at outdoor locations throughout downtown. Mashpee Commons, an outdoor shopping outlet resembling a traditional New England town center, hosts weekly outdoor concerts throughout the summer, ranging from well-known artists like Ryan Montbleau to local cover bands and folk trios.
Downtown Hyannis hosts a series of live music concerts all summer at Aselton Park on the Hyannis waterfront, along with a weekly jazz stroll and the popular a cappella group Hyannis Sound on Friday evenings. There's nothing better than live music on the beach, and at the Orleans Summer Live Music Series, listeners can chill on Nauset Beach while listening to the sounds of bluegrass, country and classic rock while enjoying fare from local food trucks. And concertgoers will give a standing ovation to Great Music on Sundays @5, Provincetown's longest-running concert series at the Unitarian Universalist Meeting House of Provincetown on Commercial Street.

Last, but certainly not least, Friday nights at the bandstand are a nearly 90-year-old tradition in Chatham, where the Chatham Town Outdoor Band (pictured above) has been performing for guests since the 1930s at Kate Gould Park. Arrive early, because there are plenty of things to do before or after the concert, from visiting a downtown Chatham restaurant to strolling the town fish pier.