You have 72 hours on Cape Cod with your kids. Now what do you do? Follow this itinerary or use it as a jumping-off point for your own unique family vacation. Either way, your three days on Cape Cod are sure to be filled with lasting memories!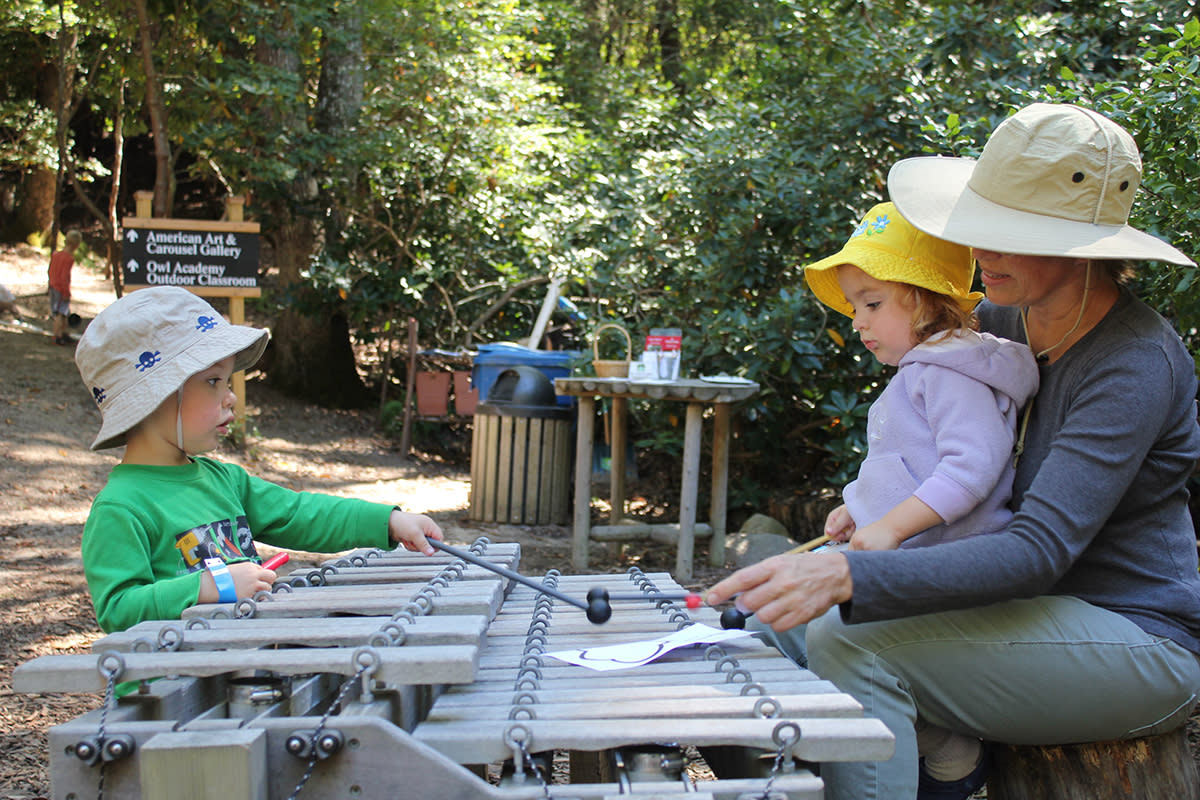 DAY ONE
8:30 am - Cape Cod Coffee Cafe (Market Street, Mashpee)
Cape Cod Coffee Cafe, tucked away in Mashpee Commons, is a perfect pick for kicking off your day. Pair fluffy buttermilk pancakes, thick sliced French Toast or the Cape Cod Benny with their fresh roasted coffee, and get ready to start your long weekend. Be sure to browse a few of the Commons' trendy boutiques and shops before your next stop.

11:30 am - Heritage Museums & Gardens (67 Grove St., Sandwich)
Situated on more than 100 acres of lush gardens, this engaging attraction offers a number of programs that get kids moving as they learn. Younger children are encouraged to splash around as they build forts, create art out of nature and explore a two-story tree house at Hidden Hollow, a certified Nature Explore classroom (pictured above). Leave time to explore Heritage's exquisitely manicured grounds to see what's in bloom, along with interactive exhibits, a classic auto gallery and a spin on the vintage carousel.

2:00 pm - Mayflower Beach (Dunes Road, Dennis)
Grab sandwiches at Ring Brothers Marketplace in Dennis on your way to Mayflower Beach, because once you arrive you won't want to leave its soft white sand and "New England warm" water. Low-tide reveals miles of scroll-etched shoreline, a dream-come-true for budding Instagram photographers.

4:00 pm - Bike Trails at Nickerson State Park (3488 Main St., Brewster)
Carve out time to explore Cape Cod on two wheels. In addition to its own ten-plus miles of paved paths, this wooded campground and natural site also links to the Cape Cod Rail Trail. From cranberry bogs to marinas, the stunning vistas along the 22-mile Rail Trail byway ooze New England charm.

5:30 pm Take scenic Route 6A all the way into Provincetown, and carve out time to explore vibrant Commercial Street with its eclectic shops, galleries and eateries. Later, a sunset SUV tour through the magnificent rolling dunes of Cape Cod National Seashore awaits, and makes for a quintessential Cape Cod nightcap.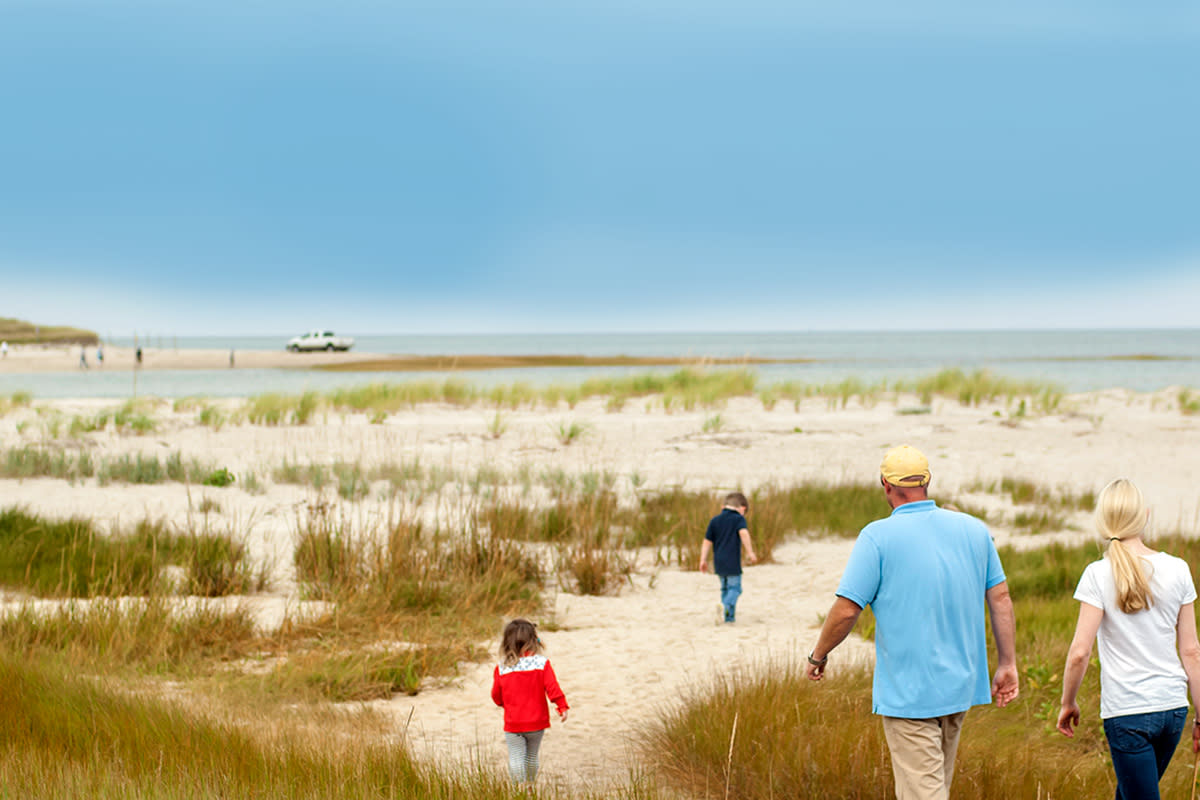 DAY TWO
9:00 am - Hole In One Bakery (4295 Route 6, Eastham)
Fuel up like a champ with a wide selection of hand-cut donuts, tasty croissants, and homemade muffins. Luckily, you're on vacation, so indulge in a mouth-watering sour cream doughnut now, and save a pecan pie bar for later. Fun Fact: If you're looking for a sit-down spot, there's a Hole in One Restaurant in nearby Orleans.

10:00 am - The Cape Cod Museum of Natural History (869 Main St., Route 6A, Brewster)
After breakfast, stroll the museum's network of trails, winding through coastal pitch pine woodlands, a salt marsh and along a wooden-plank pathway before ending at the barrier beach and tidal pools of Cape Cod Bay. Return to the main building to watch an osprey nest on live webcam, and to explore the museum's butterfly apiary, interactive science lab and touch-tank aquarium.

12:30 pm - Captain Frosty's (219 Main St., Dennis)
Devouring day-boat scallops, ultra-fresh fried cod and hand-cut onion rings under a shady oak tree is a fine way to lunch. However, some members of your party may have more exacting palates. For these individuals, Captain Frosty's offers a great kids' menu (along with delicious soft serve ice cream for dessert)!

3:00 pm - Pirate Adventures
Venture over to Yarmouth's Whydah Pirate Museum to see artifacts from a recovered pirate shipwreck and touch the world's only authenticated pirate treasure. Afterwards, head over to nearby Pirate's Cove Adventure Golf in South Yarmouth, where you can putt under cascading waterfalls, over footbridges and through caves, all in sight of a recently renovated half-sunken pirate ship.

6:00 pm Downtown Hyannis
Grab a seat and a cocktail on the outdoor patio at Spanky's Clam Shack and Seaside Saloon, a well-loved clam shack overlooking Hyannis Harbor. After dinner, stroll along the harbor's colorful HyArts Artist Shanties and peruse downtown shops. A sweet ending to the day can be found at Kandy Korner, where the homemade chocolate, fudge and taffy makes the perfect Cape Cod souvenir.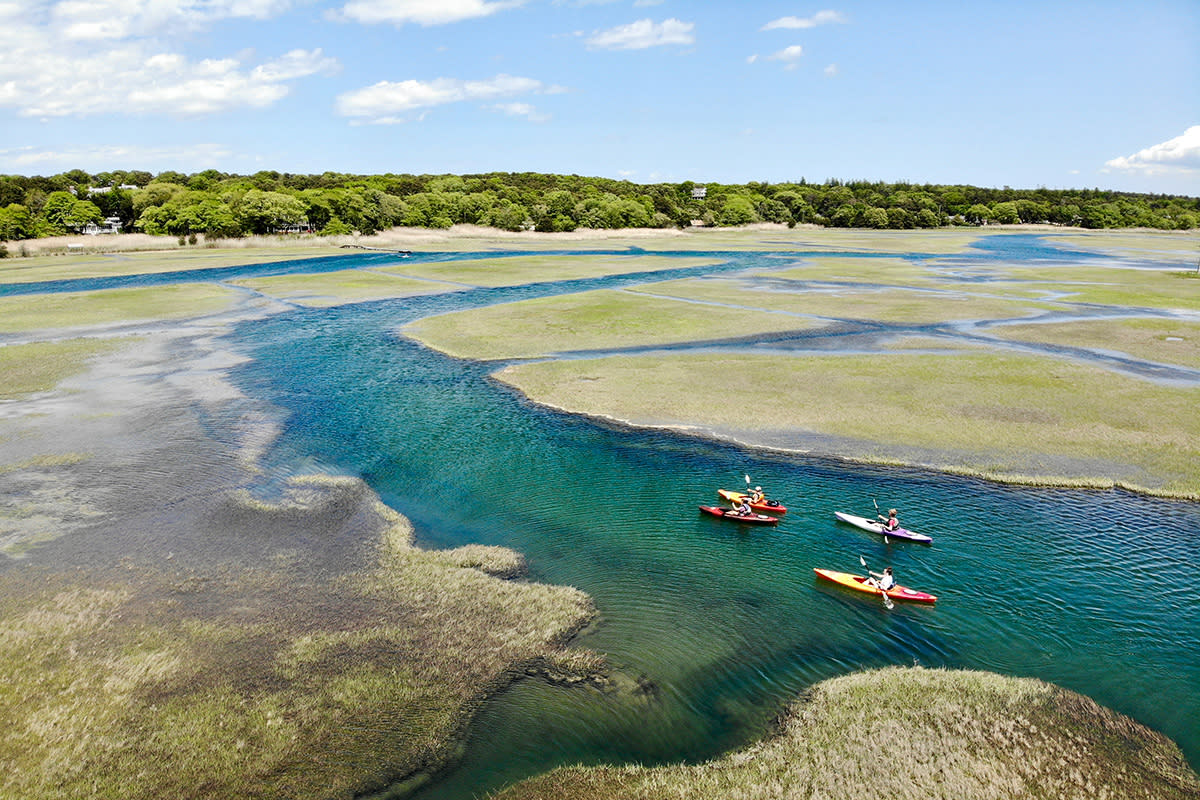 DAY THREE
9:00 am Hearth n' Kettle (Hyannis)
Get a late start and treat yourself to a leisurely breakfast at Hearth n' Kettle at the Cape Codder Resort, where you can feast on such hearty menu selections as the Meat Lovers Potato Frittata and the Florentine Skillet.

10:30 am Get Out on the Water
Next, head out to the high seas for the chance to catch the breathtaking views of breaching whales aboard Hyannis Whale Watcher Cruises out of Barnstable Harbor. Bring your camera to catch what can only be described as an epic Cape Cod experience. If you prefer to chart your own course on the water, rent a SUP or kayak to explore the ocean, harbors and kettle ponds on Cape Cod (or take a guided tour if you're a beginner). Whichever experience you choose, make a day of it!

2:30 pm - Stop by the Troops in the Spotlight event in the K-Mart Plaza on Route 132 in Hyannis, where you can meet and greet members of our military, and thank them for their service. There will also be opportunities at the event to visit the Iraq/Afghanistan Memorial Wall, send a free video message to our deployed troops and see displays of military equipment & vehicles.

4:30 pm - Baxter's Boathouse Restaurant (177 Pleasant St., Hyannis)
It's your last meal on the Cape. We know what you're craving: lobster rolls, fried scallops and steamers....on the water, naturally. Pick up your plates, sit outside and watch as the ferries skim into Hyannis Harbor.

6:00 pm - Four Seas Ice Cream (360 South Main St., Centerville)
Local folklore tells of Jackie Kennedy's deep affinity for Four Seas' fresh peach ice cream. Celebrities like Taylor Swift and Bob Hope have also been known to drop by for a homemade scoop. For a flavor that's not readily available elsewhere, try the penuche - a brown butter caramel concoction. Sweet treats and beach views—not a bad way to wrap up your 72 hours in Cape Cod.

Stop by the Annual Troops in the Spotlight event in the K-Mart Plaza on Route 132 in Hyannis, where you can Meet and greet members of our military, thank them for their service to our country.There will also be opportunities to visit the Iraq/Afghanistan Memorial Wall with the names of our Fallen Heroes, send a free video message to our deployed troops.  Make a card for a care package.and see displays of military equipment & vehicles.