Thanks to a community of talented, innovative brewers, the Cape & Islands are now a favored destination for those who love well-crafted adult beverages, whether that be beer, wine or even whiskey and vodka.

Several breweries, distilleries and wineries have opened on Cape Cod, Martha's Vineyard and Nantucket within the last decade, joining the few that were already here. You can buy many of their offerings at local stores, but it's much more fun to visit these places, tour their facilities and taste their products fresh from the source. You can even leave the car behind, hand-pick your favorites, and take a customized private tour aboard TapTastings Craft Brew Excursions.

Here's a look at some of the places revolutionizing the Cape and Islands' craft beverage scene.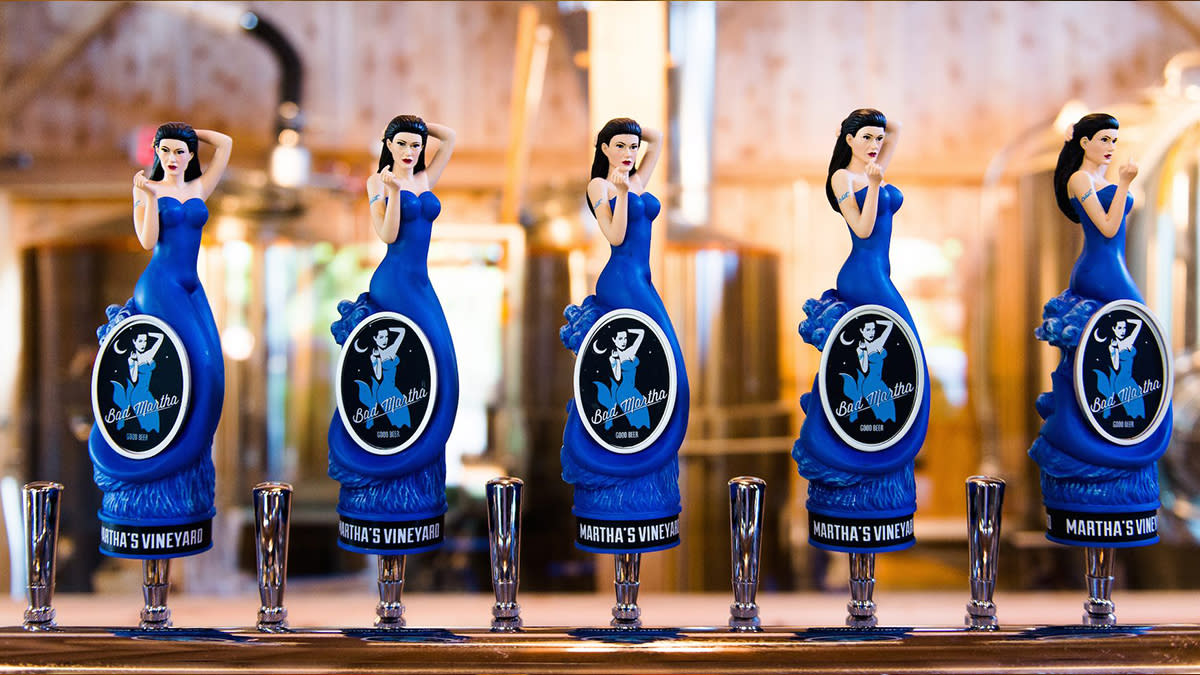 Breweries
Bad Martha Brewing - 876 Route 28, East Falmouth and 270 Upper Main Street, Edgartown
With locations in Falmouth and on the Vineyard, this brewery has a flair for creativity - producing such premium craft beers as Shark Bite, a cucumber and jalapeno lager, and Half Shell, an oyster stout made with chocolate and boiled with fresh oysters harvested from local waters. Pair your brew with their specialty artisan pizzas and outdoor live music.

Tree House Brewing Company - 98 Town Neck Road, Sandwich
Tree House Brewing Company owns and operates five facilities, their most recent one opening on the waterfront in Sandwich. This state-of-the-art German-engineered brewhouse takes great pride in making their craft beverages from start to finish, offering a full line of IPAs, cider, spirits and canned cocktails. Draft tickets can be purchased in advance at the Sandwich location (reservations required in peak season), as are products for pick-up. Deli sandwiches and bar snacks are available for purchase when enjoying a pint with a view at the brewery.

Barnstable Brewing - 484 W. Main Street, Barnstable
Barnstable Brewing opened in 2017 and brews fresh, hand-crafted beer using the finest ingredients. Their tasting room and patio make for a great gathering spot to sample such beers as their refreshing Blueberry Summer Ale.

Cape Cod Beer - 1336 Phinneys Lane, Hyannis
Open since 2004, Cape Cod Beer is one of the region's veteran breweries. They brew a wide variety of beers, ranging from a tasty IPA to seasonal and experimental brews. Guided tours, tastings and a retail store are open year-round; in season, enjoy a tented beer garden and weekly farmers' market, which often features local musicians.

Cisco Brewers - 5 Bartlett Farm Road, Nantucket
Besides brewing beer, Cisco is also a winery and distillery. The brewery was started in the 1990s, and today they offer specialty and seasonal beers, along with classics like their Whale's Tale Pale Ale. Their tours and tastings are popular with both islanders and visitors, and Cisco often hosts events with live music and food trucks.

Devil's Purse Brewing Co. - 120 Great Western Road, South Dennis
What started as a hobby between two friends has blossomed into Devil's Purse, one of the region's finest new breweries. Their location features a tasting room where visitors can sample their European-inspired ales. Outside food is welcome, as are kids and leashed dogs.

Hog Island Beer Co. - 28 West Road, Orleans
With a name inspired by an island rumored to hold buried pirate treasure, Hog Island bills itself as the outermost brewery on Cape Cod. It is open to the public Friday through Sunday and features a diverse selection of tasty craft brews, including White Shark Wheat and Outermost IPA.

Naukabout Brewery - 13 Lake Avenue, Mashpee
Tucked into the woods, this brewery includes a rotating cast of food trucks, a terraced patio and a rustic taproom where visitors can taste their small-batch, hop-forward beers. Live music, backyard games and food trucks set a family-friendly vibe; they even offer a house-made root beer for the kids.

Offshore Ale Company - 30 Kennebec Avenue, Oak Bluffs
Located on Martha's Vineyard, Offshore Ale Company was created in 1997 and has become the island's premier brewpub, boasting a full menu and rotating tap. Their laid-back vibe is part of the appeal (diners are encouraged to toss the shells of the restaurant's complimentary peanuts right on the floor), but their wide selection of exceptional beers is what keeps patrons coming back.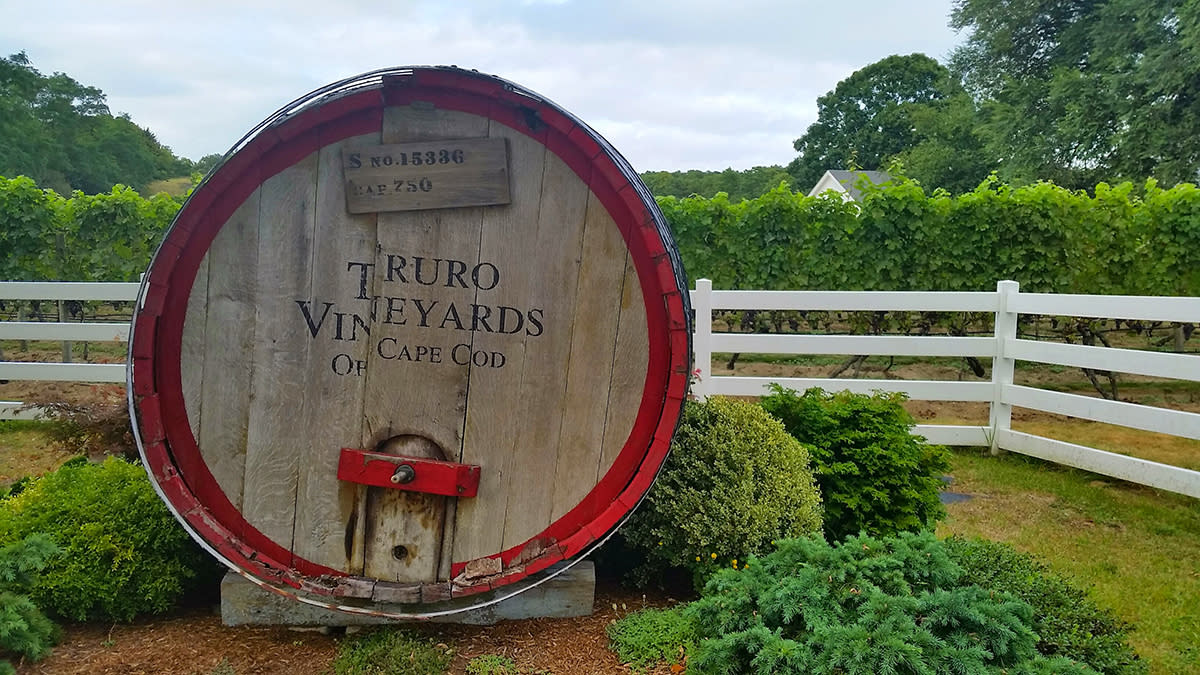 Wineries
Cape Cod Cod Winery - 4 Oxbow Road, East Falmouth
Cape Cod Winery's grapevines are planted in sandy gravel soil and on gentle slopes, which are ideal for wine grape growing and parallel to the great vineyards of southern France and Italy. The winery, located in a 19th-century farmhouse, often hosts events, including live music, paint nights and yoga.

First Crush Winery - 527 Main Street, Harwich
Deriving its name from the first step in the wine-making process, First Crush produces exquisite, award-winning wines ranging from cabernet sauvignon and zinfandel to a cranberry-raisin sauvignon blanc. Tours and tastings are held year-round.

Plymouth Bay Winery - 114 Water Street, Plymouth
While not technically on Cape Cod, Plymouth Bay Winery is too close—and too good—to exclude. This winery features wines produced from locally grown native grapes and berries; the aromatic Widow's Walk and semi-dry spicy Cranberry Blush are among their best sellers.

Truro Vineyards - 11 Shore Road, North Truro
Located on five acres of farmland, Truro Vineyards produces wine with intense flavor and lush varietal character. A tasting room and gift shop are located in a carefully restored 1830s farmhouse, and tours and a food truck are offered in season. The wines in their Lighthouse Series come in keepsake lighthouse-shaped b lighthouse-shaped bottles.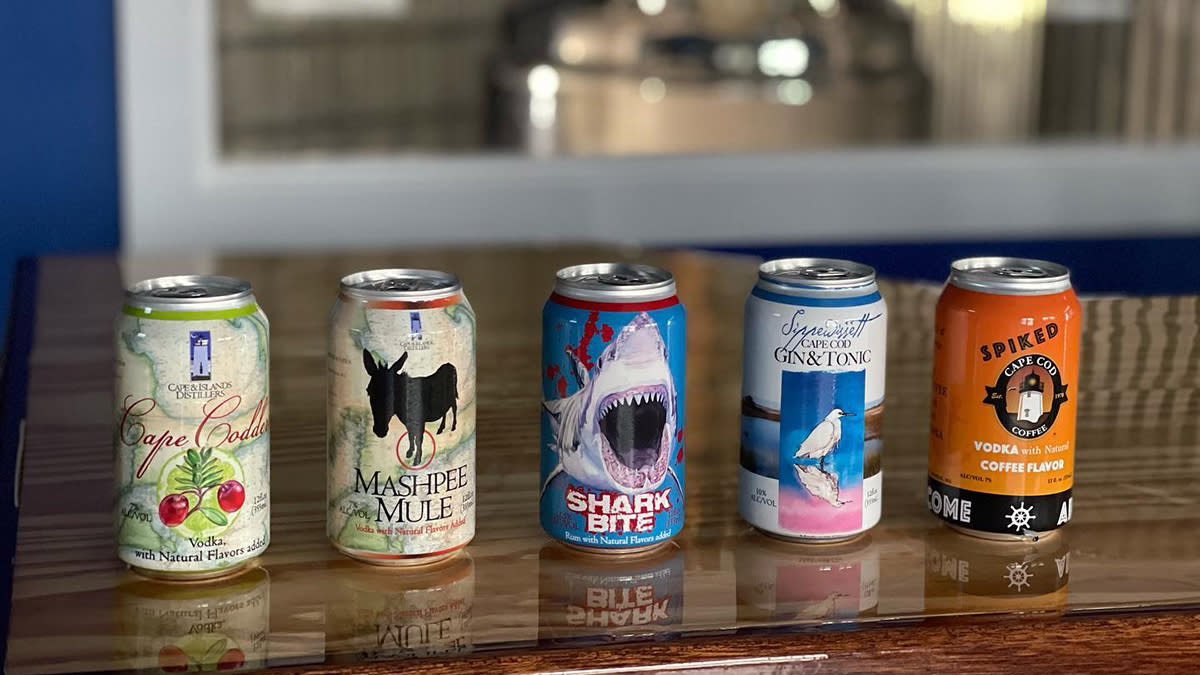 Distillers
Cape & Islands Distillers - Mashpee
Cape & Islands Distillers uses traditional techniques coupled with modern technology to produce a variety of rum, vodka and gin using locally sourced ingredients. Their spirits include Cape Cod Great White Rum, Sippewissett Cape Cod Gin and Cape Cod Coffee Vodka, and their new canned cocktails including the Mashpee Mule and Shark Bite.

Oysterville Vodka - Osterville
Created by Osterville resident Charlotte Canzano, Oysterville Vodka is a gluten-free, smooth-tasting vodka made from corn in small batches using the heart of the mash. Cocktail recipes are featured on the website; one sweet and summery idea is to juice two cantaloupes into a large mason jar and then add "your oyster" and soda.

South Hollow Spirits - 11 Shore Road, North Truro
Led by the team behind Truro Vineyards, South Hollow produces flavorful small-batch spirits, including gin and a variety of handcrafted rums. They also use locally sourced ingredients, and their products are free of artificial colors, sweeteners and flavorings.

Triple Eight Distillery - 5 Bartlett Farm Road, Nantucket
Part of Cisco Brewers, Triple Eight was created in 2000. They offer several styles of vodka—including cranberry and blueberry—plus infused liqueurs and handcrafted gin, rum, bourbon and whiskey.