Owning a small business is the quintessential labor of love. While interviewing Carol Watson of Captain Farris House and Tara Vargas Wallace of Amplify POC Cape Cod, the connection between love and labor continued to play out in their answers. Their love for people and their community is inspiring, but so is the hardship, the work, the labor, they put into their business day in and day out. 
Full interviewer disclosure: since both incredible women are working around the clock, I sent them each a series of questions to answer in their own time. I'm grateful to Carol and Tara for making the time to answer questions and am grateful to be able to share some of their insights here with you. Captain Farris House and Amplify POC Cape Cod are very different businesses. Let's get to know these businesses and the people who run them here.
Katy to Carol: What is the Captain Farris House and what is your relationship to the business?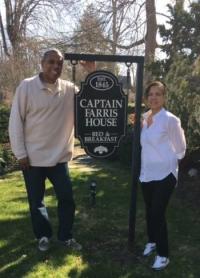 Carol: The Captain Farris House is an award-winning, 10-room bed and breakfast located in the historic Bass River Village on Cape Cod.  The Captain Farris House also opens up in the off-season (November thru April) to the public as a Tea Room.
My husband, Jeff, and I are the owners and innkeepers of the Captain Farris House.  Our relationship to the business is very up-close and personal.  We wear many hats, as small business owners and are partners in every aspect. We work together to put a stamp of top-notch hospitality on our business, doing everything from guest relations, cooking, marketing, managing operations and maintenance.  I am the creative spirit while Jeff makes sure things run smoothly every day!  We deliver delicious home-cooked breakfasts and afternoon snacks each day, provide concierge service to ensure that our guests have an amazing time while on Cape Cod.  
Katy to Tara: What is Amplify POC and what is your relationship to the business?
Tara: Amplify POC is a 501c3 Nonprofit with the mission to eradicate the racial wealth gap and foster ownership in communities of color. I am the founder and CEO.
Katy to Carol: Who are your "customers" and how do you reach them?
Carol: Our guests are travelers to the Cape looking for an amazing Cape Cod experience while staying in their 'home away from home'. Our guests come from near and far… driving from New England and the Mid-Atlantic region; flying from the South, Mid-West, and Pacific Regions.  And we are now welcoming the return of international guests from Europe and Asia.  We open our doors and go above and beyond to represent the best that Cape Cod offers. One guest said, "we came as guests, and we left as friends." 
Our partners are our local restaurants and business partners (florists, bakers, the Cultural Center, etc.) who help us to deliver on our promise of top-notch hospitality and the quintessential Cape Cod experience. Our partners also include our B&B colleagues. We work together to ensure that we keep the business in the family. If we are full, we will recommend other B&Bs, and vice versa.  When we have a situation, (i.e., tornado knocking power out) we will work with each other to ensure that guests are in good hands.
Katy to Carol: Are you working on anything special at the moment?
Carol: We are currently working on our Fall packages which includes our 'Fall in Love Again' package as well as re-opening the Tea room to the public in November. Go to our website to stay tuned to upcoming specials.  www.captainfarris.com
Katy to Tara: Who are your "customers" and how do you reach them?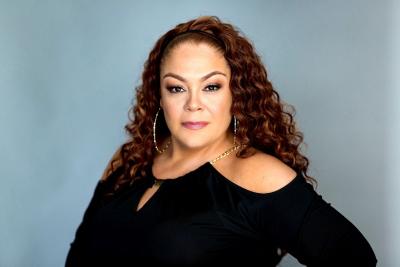 Tara: We serve all people of color. Any member of a marginalized ethnic group- we serve. Black. Indigenous, Hispanic, Latino, Asian, Caribbean, etc. If your ethnic group has been marginalized or oppressed, we serve you.
[How do I reach them?] Well, I AM a person of color so some of these communities are my own communities (Black, Latino/Hispanic - I'm a Puerto Rican woman married to a Black Man with three grown Black children). But before I started Amplify, I spent over 20 years working as a social worker in the Cape Cod Community, so I was connected to a lot of folks already. However, there are still communities that I need to do more outreach to. I've reached out the leaders in those communities and have started fostering those relationships. It's about trust building and showing up! Showing up when I'm called to is key. I can't always make every invitation, but I try my hardest. And If I miss one because of my crazy schedule then I make it a point not to miss the next invite!
Katy to Tara: Are you working on anything special at the moment?
Tara: Yes! We have quite a few things going on! We also have some workshops coming up: "Business Planning Workshop" -September (DTBD); "Grant Writing Workshop" October 22, 9am to 3pm at CCIAOR, 22 Mid-Tech Dr #22, West Yarmouth; "Business 101 Workshop" -October 26, from 8:30am to 12PM at CCIAOR, 22 Mid-Tech Dr #22, West Yarmouth; and "Business 101 Workshop" -November 5th, from 8:30am to 12PM at CCIAOR, 22 Mid-Tech Dr #22, West Yarmouth.
Like mentioned at the start, these are two very different businesses, but some of the questions asked shed light on their similarities.
Katy to Tara: How do you see the Black Owned Business Community on Cape Cod changing?
Tara: Well surprisingly the Black-Owned community on Cape is growing and growing! I just spoke to and added another Black Owned business to our online directory. Many folks started their business during the pandemic and the whole BLM movement has really inspired more to launch their own businesses.
Katy to Tara: What is getting better for the Black Owned Business Community? What's getting worse?
Tara: I'm not sure anything is getting better just yet, but I know one thing- the entrepreneurial spirit is getting STRONGER. 
Worse? The momentum is dying down. When George Floyd was murdered people were so intentional about supporting their Black and Brown neighbors but that was over two years ago now, so the momentum has died down a bit but TRUE allies are still supporting the cause and acknowledge it's a lifetime commitment.
Katy to Carol: How do you see the Black Owned Business Community on Cape Cod changing? 
Carol: There are not many Black Owned Businesses on Cape Cod so we are grateful to join the community and help to blaze a trail. 
We are thankful for the support of the Amplify POC Cape Cod who have helped to spread the word, and others who have recommended us. 
Carol and her husband Jeff have owned the Captain Farris House since 2016. 
Katy to Carol: What are some of the challenges or struggles you face through your work What do you wish you could fix?
Carol: The challenge for all small businesses, post-COVID, is that we don't have sufficient staff.  We do whatever is needed to get the job done. That means we work non-stop throughout the day to deliver on our promise for a relaxing Cape Cod getaway!  This includes ensuring that the rooms and inn are guest-ready (sanitized and cleaned); prepping and serving a delicious, home-cooked breakfast catered to dietary needs and dislikes; as well as providing concierge service to make sure that our guests have the best Cape Cod experience!  
If we could fix anything….obtaining sufficient help so we could have some down time to see and spend more time with our family, especially our grandchildren who are growing up SO QUICKLY!
Katy to Carol: How can Cape Codders support your business?
Carol: Refer friends and family that are in need of overnight accommodations. You can trust us with them. Come join us for Afternoon Tea in the off-season (November - April).  Reservations required. The tea room is open Thursdays - Sundays with two seatings: 11am - 1pm and 2pm - 4pm.
Katy to Tara: What are some of the challenges or struggles about your work?
Tara: There are several, but I would say our largest barrier or challenge is lack of funding. We need funding to continue to do what we do and to implement the programs we are set to implement. Everything from our educational components on topics like business planning, home ownership, and wealth building to our Racial Wealth Gap Fund (a direct micro grant program to support communities of color to ownership).
Katy to Tara: How can Cape Codders help with your mission?
Tara: There a few things Cape Codders can do to support our mission:
Support communities of color by donating to Amplify POC's Racial Wealth Gap fund (a fund that will give direct micro grants to aspiring entrepreneurs, existing business owners who just need a boost, homeowners, and students).
Support and Patronage local POC-Owned businesses.
Research the "racial wealth gap" so you can understand how critical it is to invest back into communities of color.
Vote for the candidates who have shown a vested interest towards policies that support racial equity and economic justice.
Support the creation of a black owned bank.
Implement DEI&B policies into your organization's policies and include measures for accountability.
Mentor an aspiring entrepreneur, homeowner, or student.
Be intentional about how you spend, earn, and invest your money.
It is clear that Carol and Tara both work hard. Supporting their work would mean more time for them each to focus on what they love about what they do.
Katy to Carol: What are some of the rewards of your work?
Carol: The rewards of our work is that we are Fulfilling a dream. We don't have to look back to say, 'what if?" We are living our dream. We talked about owning a bed and breakfast years ago and when we were ready to turn the page and start a new chapter.   we took a leap of faith. 
Another reward is that we are hosting guests who appreciate the attention to detail and work involved to make sure they enjoyed their Cape Cod getaway.
Katy to Carol: What do you love about what you do?
Carol: I sometimes describe my job as a combination of everything that I love to do: cooking, entertaining, decorating, and making happy memories. We also LOVE CAPE COD! This is such a magical place that we enjoy!
Katy to Carol: Can you share a truly rewarding experience you've had through your business?
Carol: Discovering the Cape. Living and working in Mid-Cape has given us the opportunity to discover Cape Cod.  We love it here and through our business, we have been able to learn, explore and share the wonders that Cape Cod offers.
Another is meeting our fellow Cape Codders. We live in an amazing neighborhood that is both welcoming and supportive.  Being a part of the Bass River Village community has been so rewarding. Once we opened the Tea Room to the public, we have been able to meet other year-round Cape Codders to establish and build relationships.
Katy to Tara: What are some of the rewards of your work? 
Tara: The people. I LOVE connecting with the people and communities we serve. 
Katy to Tara: What else do you love about what you do? 
Tara: I've always had a passion for social justice. My favorite part about the work I do is the advocacy piece. From a young age I learned I had the power to influence and inspire people with my story and my passion for all things just and so I consider it my duty to utilize that influence to amplify Black, Indigenous, and other POC voices. It is my responsibility as a woman of color with some sort of influence, to amplify the voices (and the needs) of the marginalized. I love using my voice to advocate for change.
Katy to Tara: Can you share a truly rewarding experience you've had through your work? 
Tara: They are the ones you don't see or hear about. It's the personal phone calls I get from folks out in the community looking for my help. Needing guidance or needing me to connect them to someone or thing. I get these calls often and it use to overwhelm me a lot, but I started seeing it as a gift. A gift to help people with whatever it is I have. I don't always have the answers or the solutions but sometimes I do and most times when I don't I know someone who does. But most importantly it's the connection of helping or guiding someone along a stressful or scary experience. The humanity of being there for them through the process and letting them know I'm going to be by their side even if it means we have to learn something new together. Those are the rewarding experiences that fill my heart.
Being there for others in times of celebration or struggle (and everything in between) is what doing business is all about, especially for businesses like Captain Farris House and Amplify POC Cape Cod as we learned from Carol and Tara. Being there for each other goes a long way. All Cape Codders can be there for our local, minority owned businesses, not just for Black Business Month, but all year 'round. 
Tara puts it best here after I asked, "what question should I have asked?" She says "why is it important to support Black Owned Businesses? Because of racism and the racial wealth gap. The racial wealth is the absolute difference in wealth in median household among populations grouped by race or ethnicity. And it was caused by years and years of harmful systemic policies that were put in place to exclude people of color. Things like Red Lining, Gentrification, and Loan Discrimination have had a detrimental impact on communities of color being able to build generational wealth. Also, four hundred plus years of racism.  Look up Greenwood, Tulsa or Black Wall Street."