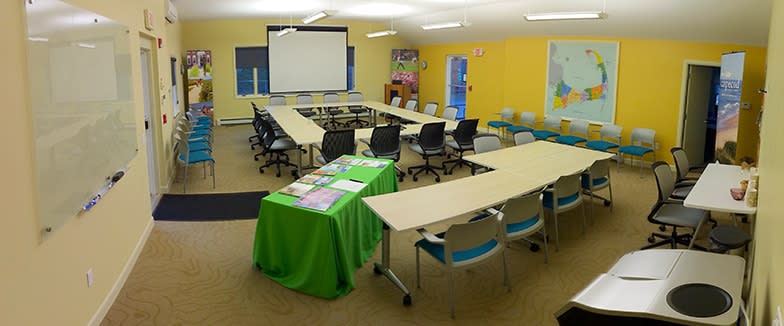 Interested in using the Sandy Neck Conference Room at the Cape Cod Chamber of Commerce administrative building at 5 Patti Page Way in Centerville? Here are the details!

Sandy Neck Conference Room
Seats: 37

Features:
Modular tables for flexible configuration, Free Wifi, Handicapped accessible
Ceiling-mounted projector with 120" Screen,
80" Flat screen/monitor
Podium with sound and microphone

Additional:
Food Use: $15 cleaning fee assessed
Check availability on the Sandy Neck Conference Room now!
Email greta@capecodchamber.org  to request to use the conference room.
Rental Fees:
Free  for Cape Cod Chamber members
$50 an hour for nonmembers, $300 for a full day

Find our Reservation/Room Use Policies listed below:
Room rental shall be on a first-come, first-served basis, except that priority will be given to Board of Directors, Executive Committee and other official Chamber pillars and committee meetings.
Generally, room hours are between 8:30am and 5:00pm, Monday - Friday.  Special allowances may be made for meeting times before or after hours.
If you need additional time for set-up and tear-down, please account for that time in the start and end times of your request.  Your reservation start time is the earliest time you may enter the room, and the end time is when everyone involved with your meeting or event needs to be out of the room and the room restored.
Your group will be responsible for resetting furniture, and turning out overhead lights at the conclusion of the event.
The room must be left in a neat, clean and orderly condition. Please clean up at the conclusions of your meeting.  You may dispose of trash and unwanted items in the dumpster on side of driveway.  If these conditions are not met, a Room Clean-up Fee of $200.00 will be charged. Individuals holding events assume responsibility for any damage to rooms, contents of equipment used will be charged for any necessary repairs or replacement. Damage must be reported to Chamber staff immediately
Payment is due on the day of the conference room use
Cancellation must be done 24 hours prior to the scheduled event or the renter will owe half of the total fee of the rental
The Cape Cod Chamber campus is a smoke-free environment
Nothing shall be attached to the walls, ceiling, or any fixtures
Candles, lighters, incense, or any open flame are prohibited
It is understood that the Cape Cod Chamber of Commerce is in no way responsible for any personal injuries, property damages or other liabilities that may be incurred during use of their facility. Renter agrees to release indemnity and hold the Chamber harmless of any such damages.
If you need to order lunch for your meeting, try these Chamber members located in the vicinity: B2 Burrito, Dragon Lite, Gannon's Tavern, 99 Restaurants, Pineapple Caper, DJ's Family Sports Pub, Stop & Shop, Starbucks, Hearth n' Kettle, Fancy's Market and Washashore Bakery