LaunchPad Co-Working Space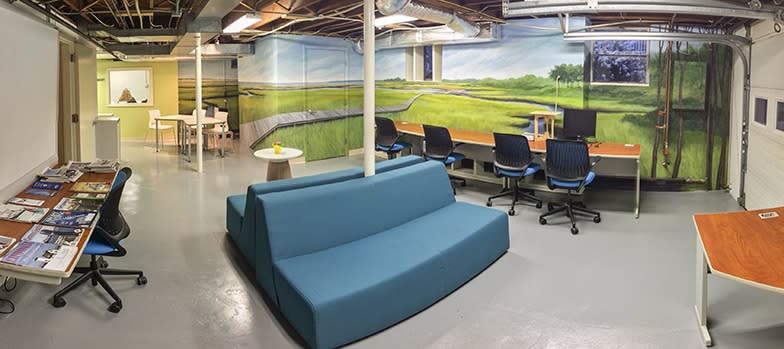 "Order and discipline are the prerequisites for creativity and daring......the best life is a series of daring excursions from a secure and orderly base." (David Brooks, New York Times columnist).

It is this base that we have created in the first floor of the Cape Cod Chamber of Commerce administration building at 5 Patti Page Way in Centerville:  Separate, attractive space for the creator/innovator, with ergonomic chairs, comfortable sofas, hi-speed broadband service and more. The space is surrounded by those committed to and experienced in helping individuals and businesses succeed. Come out of your kitchens and garages, do your meetings here, in open or closed space. 

Need to do interviews?  Do them here. Your background will be a beautifully painted mural by artist Hans de Castellene. By creating this space in the middle of the largest town in the region (and a gateway town), we send a meaningful, public message to our younger population, our immigrant population, and our underemployed workers that they are valued, have a place to go, and will get the support they need.  And, we're right off of Rte 6 at Exit 6—easy to get to from where ever you are on the Cape!

What it looks and feels like:  The workspace adheres to the business incubator/accelerator model, with a variety of spaces for a variety of activity: meet/greet, confer, collaborate, brainstorm, coordinate/deliver, communicate and refresh.  Yes, we're talking coffee.   It has a separate entrance that allows for use in off hours. The porch provides additional "contemplative" space; a whiteboard allows for presentations; a "brainstorm room" with a movable conference table and chairs and a "deliver" space, with a copier/printer and mailing facilities, adds to the flexibility of the space. A fully accessible bathroom and  "refresh" café space with free coffee, hot and cold filtered water, a refrigerator, dishwasher and microwave, and a bar with stools for meals (or for meetings!). Both that space and trips to the common copier/printer space used by the staffs of the organizations in the building set the stage for informal "collisions" with a wide range of professionals, offering information and encouragement.

The ground floor LaunchPad allows entrepreneurs to privately meet clients or investors in either a small collaborative room, larger conference space or two focus rooms to close the door and think by themselves.

Read a Barnstable Patriot article on the LaunchPad when it first opened.

This space was made possible through funds from the Cape Cod Chamber of Commerce and the MassDevelopment Transformation Development Initiative. 

Click here for information about using our Sandy Neck Conference Room upstairs.