Cape Cod is a dreamy summer getaway, and quite literally a short trip to far away for most New Englanders. But like any popular vacation destination, the roadways leading to the Cape can get busy in summer months. Fortunately, there are affordable and relaxing alternatives to traveling here by car. Here's how to leave your car behind and enjoy Cape Cod in a greener, more sustainable way. The salt marshes and ocean critters will thank you for shrinking your carbon footprint.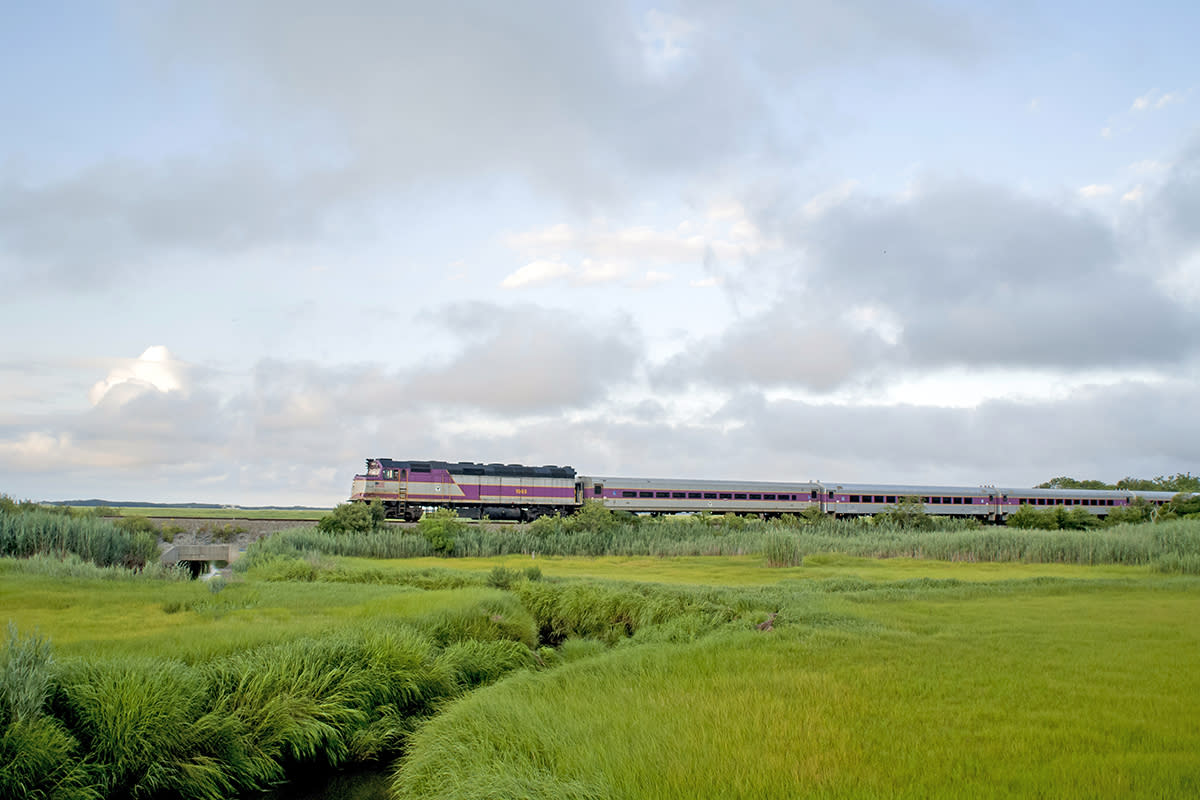 Train to Cape Cod
From Memorial Day through Labor Day, Bostonians can take the scenic route to Cape Cod aboard the Cape Cod Regional Transit Authority's CapeFLYER passenger train. Weekend beachgoers can relax with a book, cold beer and WiFi while cruising over the railroad bridge to the Cape. The train operates Friday, Saturday and Sunday, and connects South Station to Hyannis, with stops at Braintree, Brockton, Middleborough/ Lakeville, Wareham Village and Buzzards Bay. The cafe is stocked with fresh snacks, wine, soda and Cape Cod Beer. In addition to affordable fares, kids 11 and under ride free on CapeFlyer when accompanied by a paying adult, and seniors and persons with disabilities can ride for half off the regular full fare. Ferry, car rental and bus/taxi services are accessible from the train's final stop at the Hyannis Transportation Center; bikes are accommodated at no charge in a special car outfitted with bike tools and racks, so pedaling around.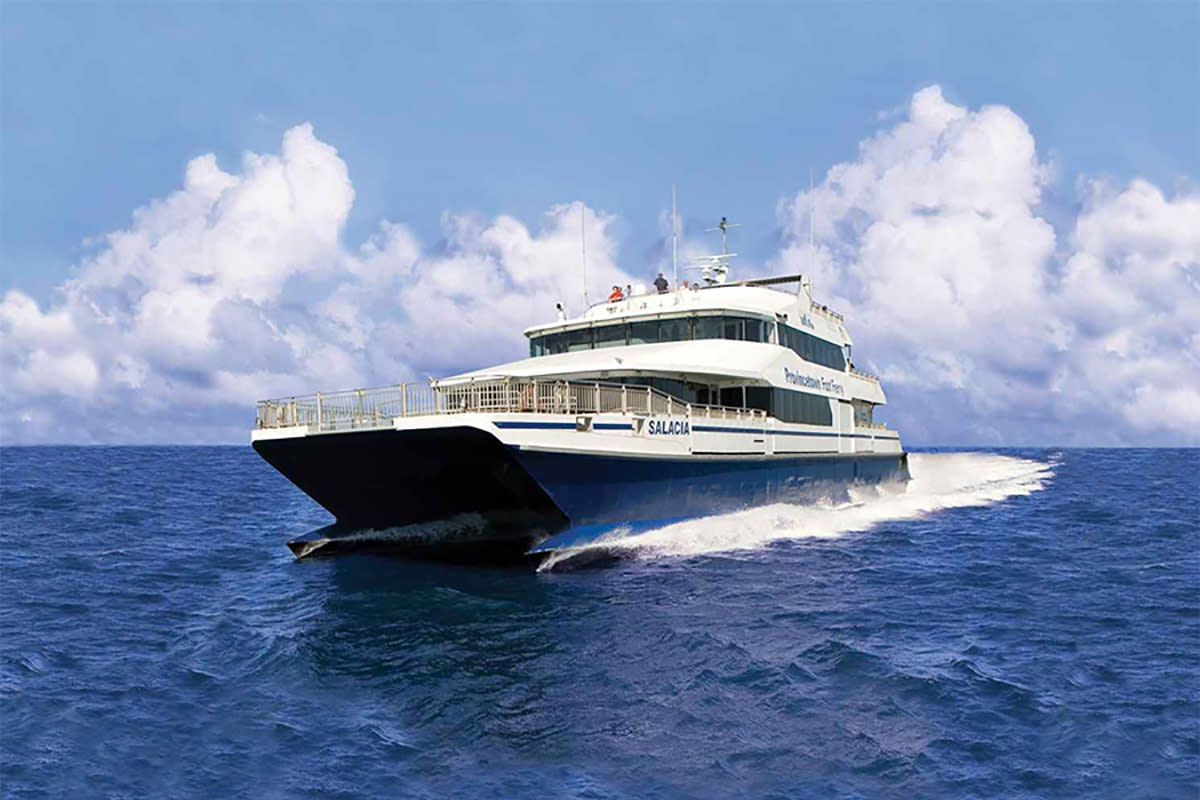 Ferry to Provincetown from Boston
If you want to enjoy a water view while cruising to your Cape vacation, there are two fast-ferry options for the 90-minute journey. Bay State Cruise Co., which offers a traditional three-hour ferry in addition to the high-speed option, departs Boston from the World Trade Center pier, while Boston Harbor Cruises departs from Long Wharf. Both run from May through October and offer onboard cocktail bars, snacks and air-conditioned interior cabins, as well as the option to bring your bike. The endpoint is MacMillan Pier in the heart of Provincetown, where it is easy to go car-free for the weekend.
Ferry to Provincetown from Plymouth
Getting to Provincetown from Plymouth is so easy and fun! Your adventure starts when you board the Captain John Boats Plymouth to Provincetown Fast Ferry on the State Pier, 77 Water Street in Plymouth. Enjoy comfortable seating in a climate-controlled cabin with full galley service and great views of historic Plymouth Harbor and Cape Cod Bay.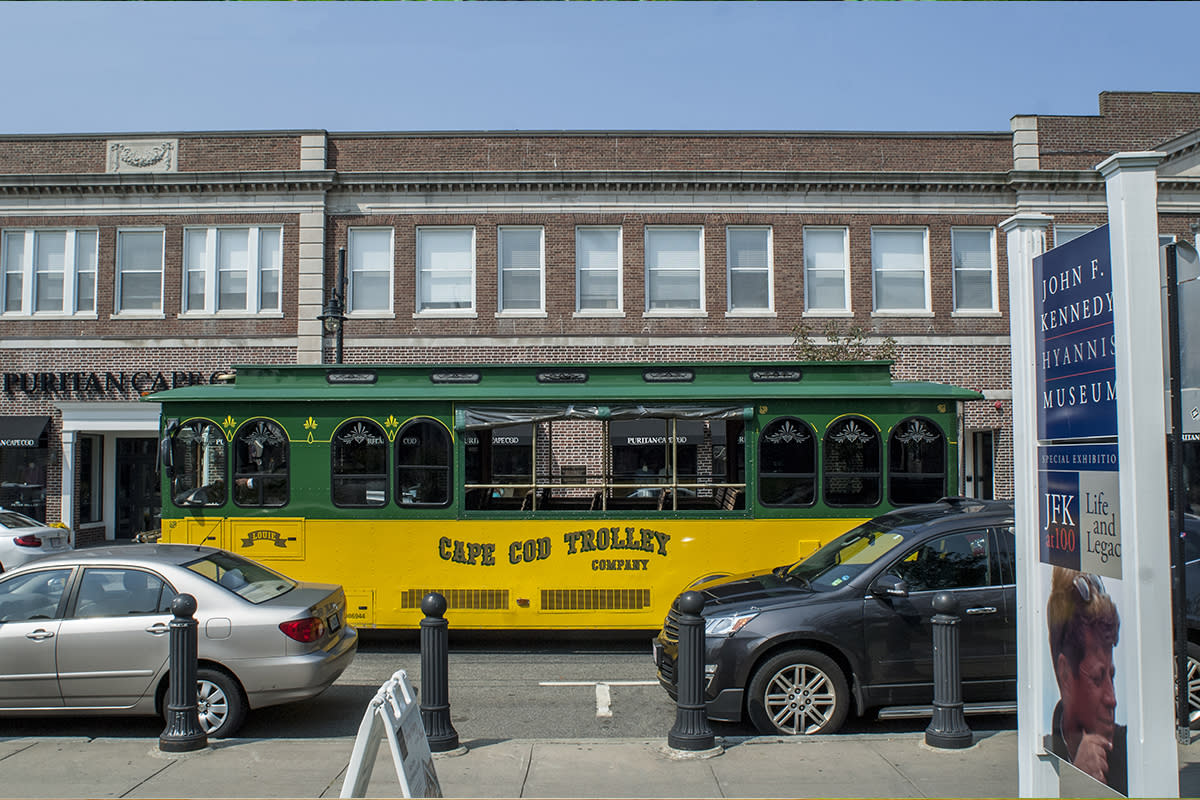 Bus Service
Another option for car-free travel to the Cape is to take one of the bus lines between metro Boston and Cape Cod.  Peter Pan Bus Lines and Plymouth & Brockton Buses depart several times daily from Logan Airport, South Station and the Back Bay, transporting passengers to Barnstable, Hyannis and Woods Hole (Peter Pan Bus also has runs from Providence and to Provincetown). Sit back and surf the web along the way, as both offer WiFi service.
During summer months, many towns—including Falmouth, Hyannis, Provincetown and Sandwich— offer trolley service between attractions, beaches and shopping centers. The old-fashioned charm of this classic mode of transportation makes it a popular option. Cape Cod RTA buses - with bike racks - also regularly travel between the Upper, Mid, Lower and Outer Cape, making it easier to explore the peninsula.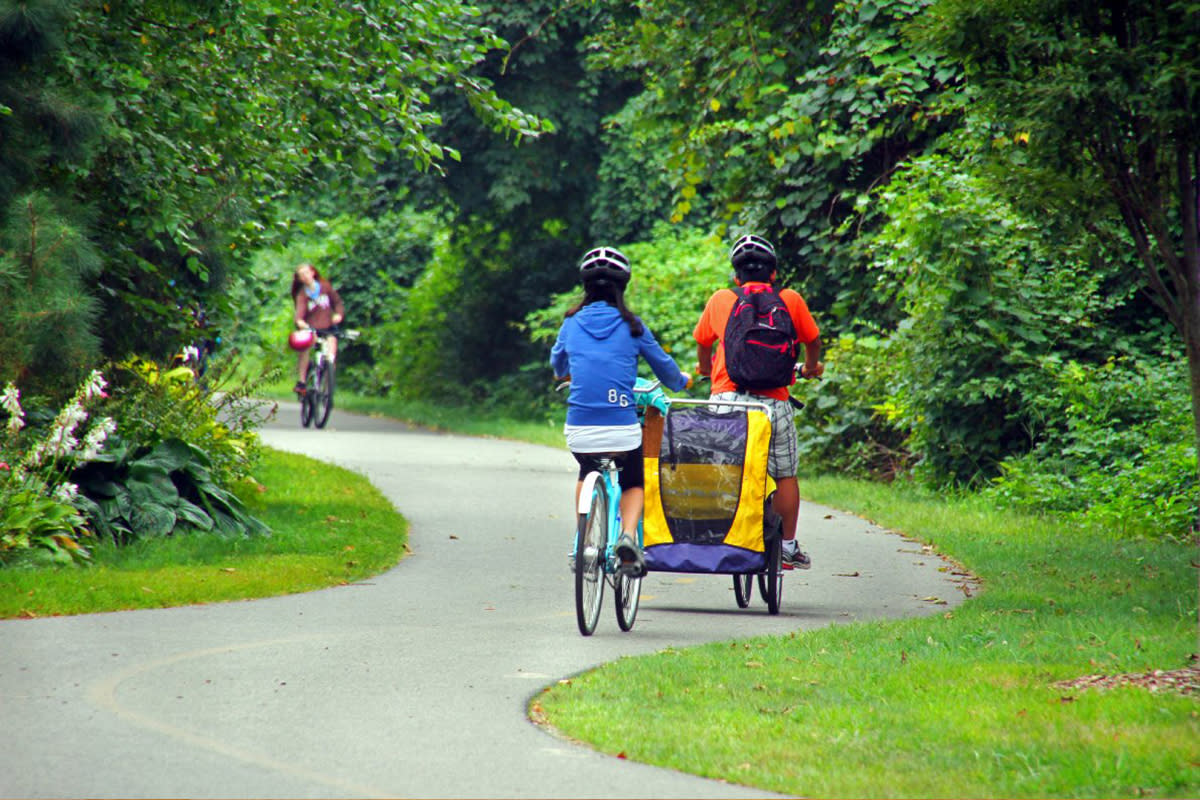 Biking on Cape Cod
With 114 miles of bike paths, excellent mountain biking trails and cyclist-friendly main roads, a bike is one of the best and greenest ways to explore Cape Cod. Pedal along beaches, bogs and harbors on the Shining Sea Bikeway from North Falmouth to Woods Hole. Those hoping to retrace the path of the former Cape Cod Railroad can navigate the 22-mile paved Cape Cod Rail Trail from Dennis to Wellfleet; the Rail Trail's latest trail extension to Yarmouth includes an overpass over the town's Station Avenue. Nauset Trail in Eastham provides cyclists a panoramic view of the Atlantic Ocean, while the Province Lands Path is a near six-mile route in Provincetown that crosses sand dunes, pine forests and cranberry bogs. Or watch the ship and boat traffic through the Cape Cod Canal from the bike paths that run along both sides of the manmade canal between the Bourne and Sagamore Bridges.

If you don't have a bike, there are plenty of rental locations up and down Cape Cod that provide rentals for the day or an entire week, including Dennis Cycle Center in South Dennis, Holiday Cycles in Falmouth and RideAway Adventures in Sandwich and Mashpee.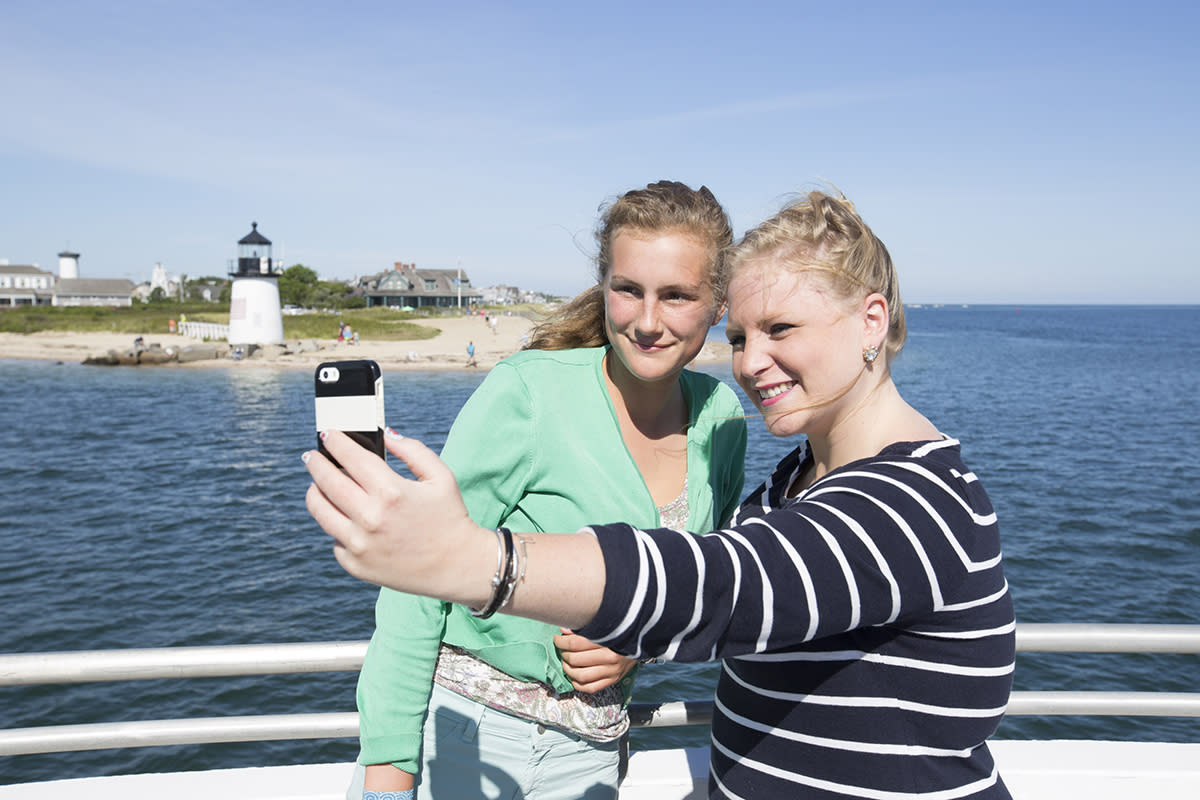 Ferry to Martha's Vineyard and Nantucket
No summer in Massachusetts is complete without fried seafood, ice cream and a cruise out on the Atlantic. Squeeze in all that summer goodness by taking a ferry from the mainland to the islands of Martha's Vineyard or Nantucket. The Island Queen departs daily in season from Falmouth Harbor to Martha's Vineyard, while Hy-Line Cruises' fast ferry out of Hyannis Harbor travel to both the Vineyard and Nantucket, with Inter-Island ferry service as well. The Steamship Authority makes daily trips year round between Woods Hole and Martha's Vineyard, and offers both traditional and fast-ferry service from Hyannis Harbor to Nantucket.

Fly to Cape Cod
While we know flying isn't the greenest of activities, you can make up for it by walking, biking or swimming your way across Cape Cod once you land. Cape Air offers flights connecting Hyannis, Provincetown, Nantucket and Martha's Vineyard to Boston, New Bedford and JFK/NYC (some routes are seasonal). And New York to Cape Cod flights are also an option for travelers; JetBlue provides seasonal non-stop service between Hyannis and JFK Airport, with daily flights in season.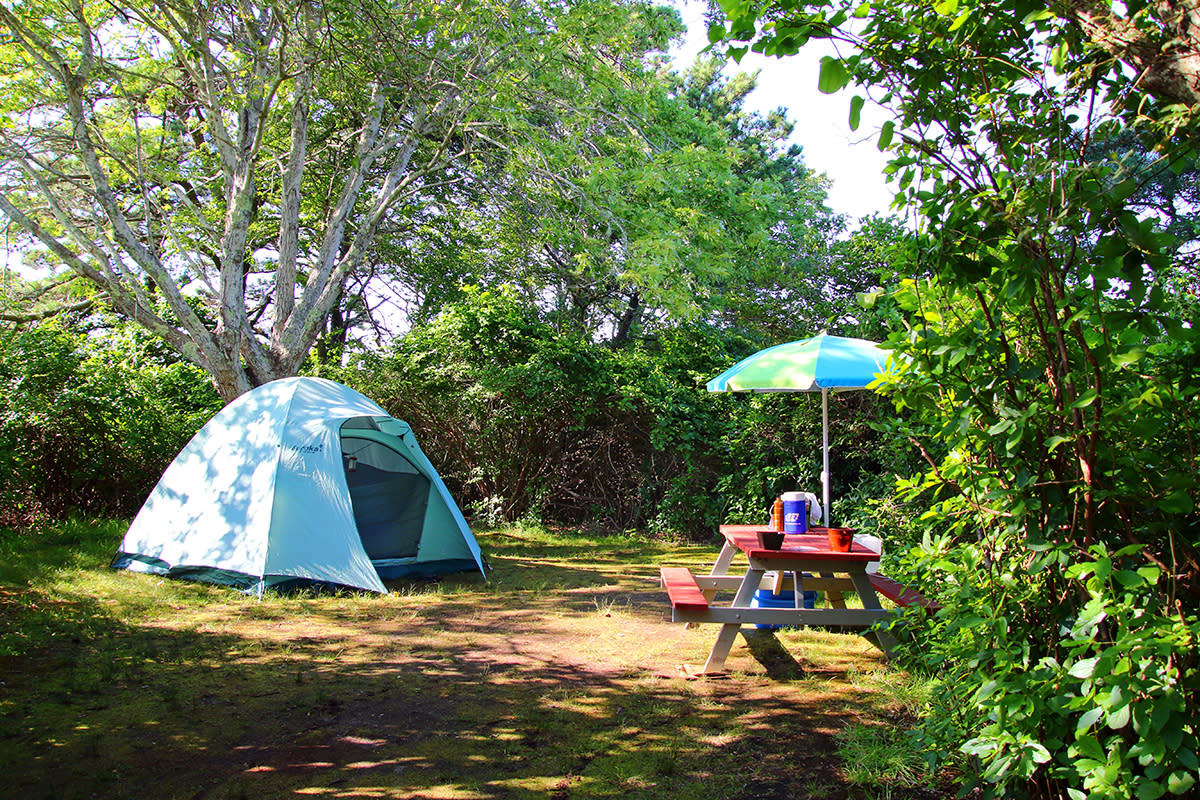 Go Camping
If sustainable living appeals to you as much as car-free travel, our campgrounds are a great option, allowing you to get close to the Cape's natural beauty without treading on it too heavily. Atlantic Oaks (3700 Route 6, Eastham) offers camping sites less than a half-mile from the National Seashore Visitor Center. Peters Pond RV Resort (185 Cotuit Road, Sandwich) is a scenic and shady destination for camping overlooking Peters Pond and near bike and hiking trails; amenities include an on-site restaurant, heated outdoor pool and water trampoline.  Campers Haven (184 Old Wharf Road, Dennisport) is a hidden gem, with its own private swimming beach on Nantucket Sound. Coastal Acres (76R Bayberry Ave, Provincetown) is just minutes from the center of Provincetown, but isolated on a quiet cove. Sweetwater Forest (676 Harwich Road, Brewster) is conveniently located on the Mid- Cape within a wooded forest, for cool camping even on the warmest of days. For those who want to kick their camping up a notch, check out AutoCamp Cape Cod (836 Palmer Avenue, Falmouth); luxury tents and airstreams await, and weekly activities at the campsite include yoga, beverage tastings, and music by the campfire.