Among the many culinary pleasures on Cape Cod, seafood naturally tops the list, so it's no wonder so many local chefs plan their menus around this bounty of the surrounding sea.
Here's a sampling of a few favorite local dishes where fresh seafood is clearly the star of the show.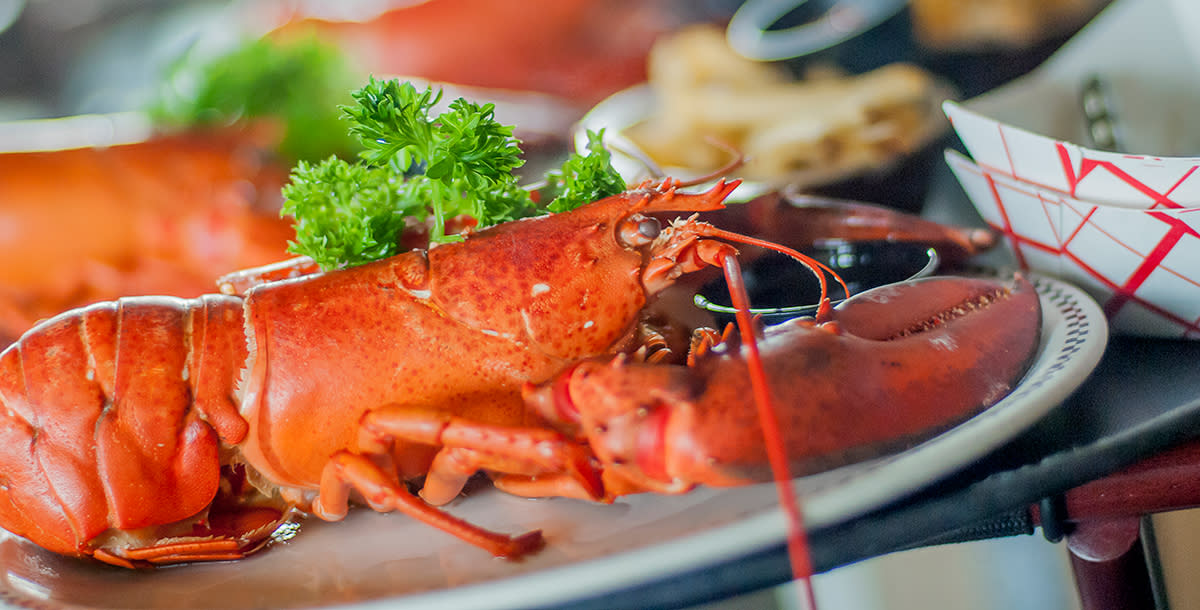 With its iconic neon lobster sign and stunning harbor views, the Lobster Pot is a necessary detour when in Provincetown. For those looking for a traditional meal, the restaurant's Clambake is the way to go. A hearty cup of clam chowder, Portuguese soup or lobster bisque is followed by mussels, corn on the cob, red bliss potatoes, homemade bread and a 1 1/4-pound lobster plucked right from the lobster tank on property (can it get any fresher?) For something a little different, the restaurant's signature Lobster Mac 'n Cheese – prepared with camembert cheese, artichoke hearts and piquillo peppers - is a rich and unique take on the classic.
Mac's Seafood offers five different dining locations on Cape Cod, and the one thing they all have in common is extremely fresh seafood. At the casual, yet upscale Mac's Fish House in Provincetown or at Mac's Shack in Wellfleet, try one of Mac's classics like the Seafood Zarzuela, featuring local shellfish and the catch of the day in a briny, slow-roasted tomato stew. Other fabulous offerings include Mac's pan roasted halibut with lobster mashed potatoes, and the restaurant's Hawaiian poke with tuna or salmon, avocado, red onion, sushi rice, seaweed salad and shoyu dressing. Whatever you order, it's guaranteed fresh.
Moby Dick's Restaurant in Wellfleet is a family-owned eatery offering casual dining with a focus on locally caught seafood. The Nantucket bucket appetizer is large enough to share with one pound each of steamers and mussels, along corn on the cob. For a lighter dinner, the grilled seafood kebob is a crowd pleaser, with skewers filled with scallops, swordfish, shrimp, summer squash, zucchini, onion and red pepper served over a bed of rice pilaf. Note: For those who want to pair beer or wine with their meal, the restaurant is B.Y.O.B.
As you dine on one of the picnic tables at the Chatham Fish Pier Fish Market, you'll have a front row seat to watch local fishermen unloading their catch of the day. The menu is timeless New England so be prepared to dig into dishes like a fried whole belly clam roll with lettuce and lemon aioli served on a brioche roll. Lobster rolls are served two different ways, so take your pick; the traditional lobster roll with just a hint of mayo, or the warm lobster roll with the tasty crustacean tossed with melted butter.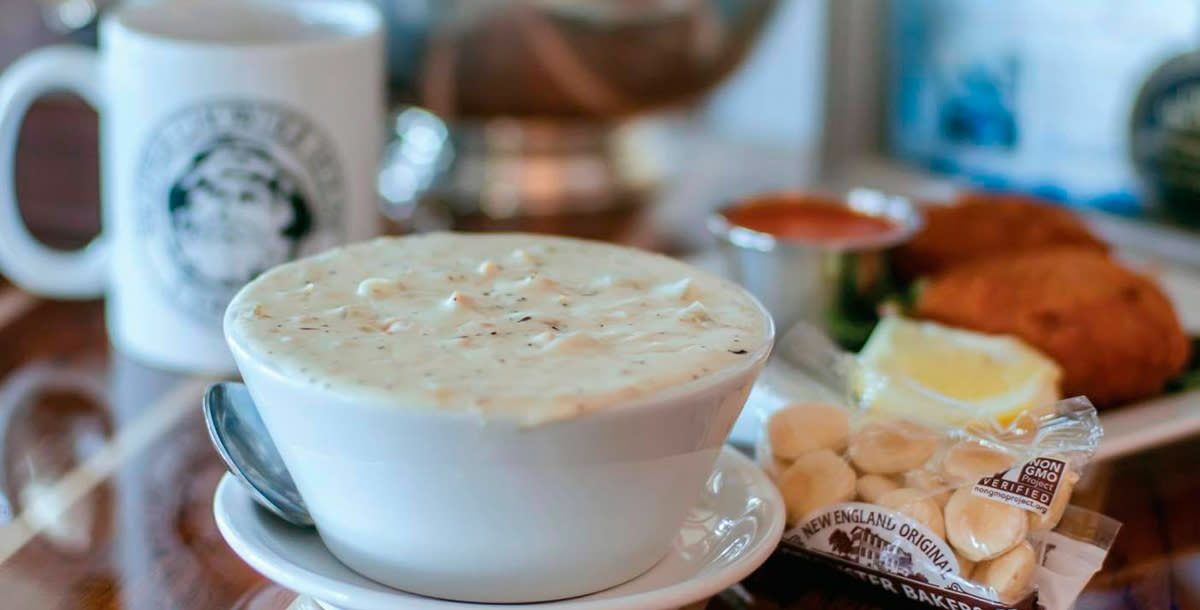 A mainstay in South Yarmouth, the waterfront Skipper Chowder House has earned its name; the restaurant has taken home countless awards over the years for its delectable clam chowder. A few years ago, they took their classic recipe to the next level by creating a unique and addictive version of fried clam chowder.  They chill their chowder base and then make chowder cakes that are dipped in panko crumbs and deep fried to golden perfection. Other savory seafood choices include a crispy fish taco and lobster ravioli.
The water views are gorgeous, and so is the grand sight of The Flying Bridge in Falmouth. Watch the ferries and boats come and go from heated wrap around decks framed with festive blue awnings. You can't go wrong starting with the restaurant's Bang Bang Shrimp or Fried Calamari appetizer. For a cornucopia of seafood, try the Seafood Bouillabaisse, a mouth-watering combination of shrimp, lobster, scallops, swordfish, mussels and littlenecks in a saffron tomato broth. Another fabulous choice is their elegant grilled swordfish with sweet potato corn hash, lump crab and citrus butter.
With expansive 270-degree water views of the Cape Cod Canal and Sandwich Marina, the aptly named Fishermen's View Seafood Market & Restaurant embraces a boat-to-table dining concept that ensures their seafood is dayboat fresh. The menu changes seasonally, but a sampling of the intriguing selections include Jonah Crab Stuffed Haddock with a beurre Blanc sauce, fingerling potatoes and garlic buttered farm beans. For those who like it hot, the Lobster Fra Diavolo includes grilled lobster, shrimp, littlenecks and mussels in a spicy red sauce with grilled garlic bread to sop up the extra sauce.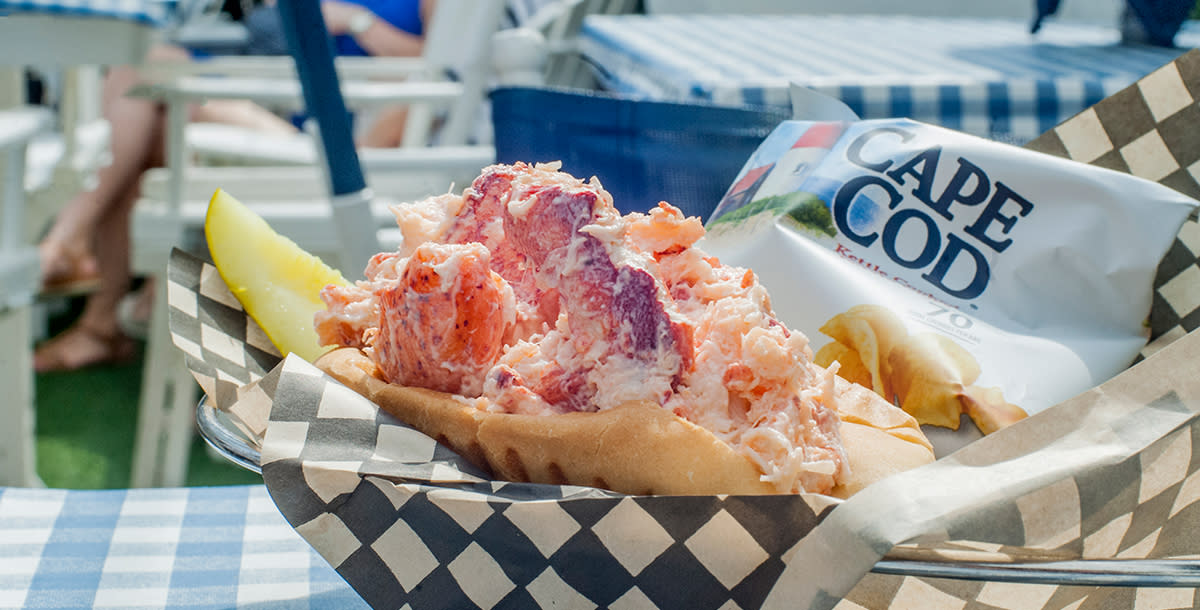 Overlooking bustling Hyannis Harbor, The Black Cat Tavern has a menu dominated by fresh seafood. The shareable chilled Seafood Tower is a seafood lover's dream, consisting of a cold lobster tail, ahi tuna, sashimi, four shrimp, six oysters, six littlenecks and seaweed salad. Another fun plate to share is the baked seafood sampler, where you'll nosh on four crabmeat-stuffed mushroom caps, four scallops wrapped in bacon, two clams casino and two stuffed oysters. Or you could spurge and order both.
The Naked Oyster, a French bistro in downtown Hyannis whose owner/chef is a native of France, specializes in fresh local products, including oysters homegrown in their own Barnstable oyster farm. An Oyster shooter with Absolut pepper vodka is a lively way to begin your meal. Next, move on to a classic Oyster Rockefeller with spinach, parmesan cheese, Pernod and bacon. For a special entrée, try the native scallops and fig mascarpone ravioli with a fennel lemon wine sauce. Pair it with a martini for complete perfection.