Scenic beaches scattered along unrivaled stretches of sandy coast, 40 miles of unspoiled coastline and dunes, and the Atlantic surf draw visitors from all over the world looking for an iconic Cape Cod beach day. From the calm waters of the Nantucket Sound and kid-friendly tidal flats to big, crashing waves on the ocean side, here's a round-up of the Cape's best family beaches for your next seaside getaway.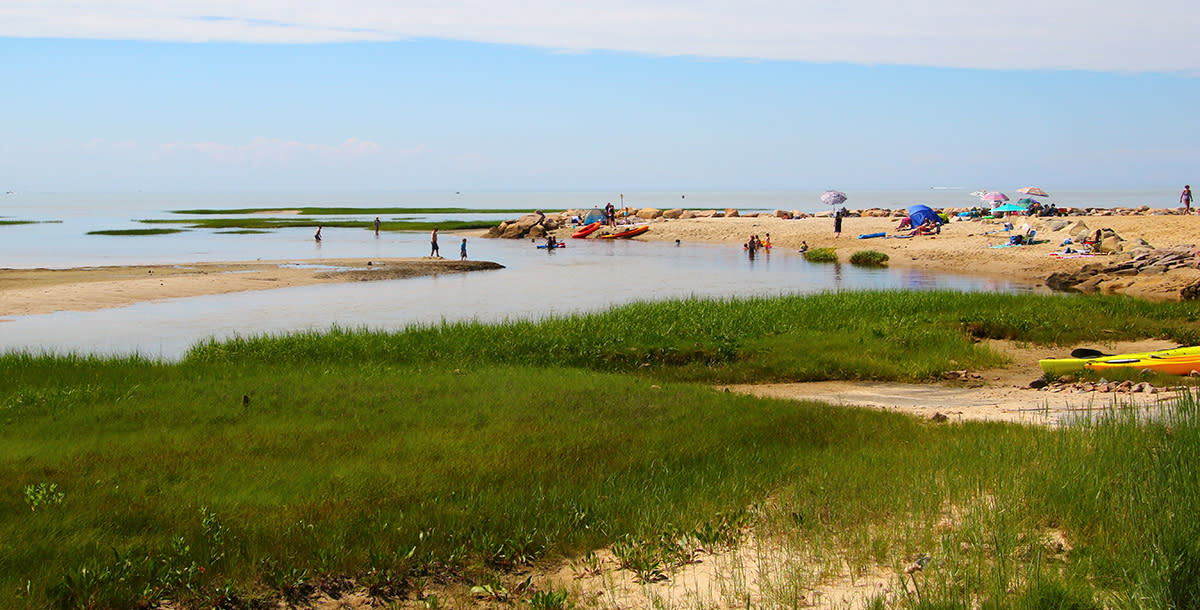 Paine's Creek Beach, Brewster
Swim, tube, and float the day away at this scenic inlet that turns Paine's Creek into a natural "lazy river" at high tide on the gorgeous Brewster Flats. Bring buckets, nets, and shovels for the kids, who can gather around the tidal pools at low tide and get hands-on with an array of remarkable sea creatures. Older children love skimboarding on the flats almost as much as adults enjoy relaxing in beach chairs surrounded by a picture-perfect seascape. Don't forget money for the ice cream truck that cruises the beach parking lots.
Craigville Beach, Centerville
Picturesque views of the Nantucket Sound and a wide stretch of shore make Craigville Beach a Mid-Cape favorite for swimmers, sunbathers, and beachcombers alike. Stroll for sea glass, enjoy the gentle waves, then sink your toes into the soft sand and create some seashell art of your own. Convenient parking with easy on-off beach access, restaurants across the street, lifeguards, and five-star amenities check all the boxes for a family beach day to remember.

Red River Beach, Harwich
Spend a classic family beach day on the powdery, white sands of Red River Beach, where you can sunbathe, build sandcastles, and comb the expansive shoreline for unique shells. From easy beach access to a calm, gentle surf perfect for swimming and boogie boarding, this Nantucket Sound favorite has everything you need to relax and unwind– including a kayak and canoe launch. Lifeguard, facilities, and food vendor on-site.

Mayflower Beach, Dennis
Swim, relax, and repeat at this popular bayside family beach known for its clear, blue-green waters and soft sand. This premier spot for sandcastle building is fun any time of day for beachgoers of all ages. Bring little kids to splash and smile in the gentle waves and explore the amazing tide pools for sea life, then go for a family swim in the calm waters. Visit the snack shack and keep your toes in the sand all the way to sunset, one of the Cape's very best shows.
Hardings Beach, Chatham
Join locals at the water's edge in Chatham to enjoy a quintessential Cape Cod beach day on the Nantucket Sound. Spectacular views, calm surf, and an easy walk to Stage Harbor lighthouse make Hardings Beach a family favorite. Swim, sunbathe, and spread out on the sprawling sand for a game of beach bocce—a Hardings tradition. Lifeguard stations, food trucks, and plenty of parking.   
Nauset Beach, Orleans
Surf's up at Nauset Beach, one of the Cape's largest and most beautiful stretches of sand where kids can see crashing waves, collect colorful rocks, and hunt for shark teeth. Big surf and a wide beach that extends for miles gives visitors a chance to experience the sights and sounds of the Atlantic in and out of the water. Trails for oversand beach driving, lots of boogie boarders and bodysurfers, and the occasional bobbing seal head add to the fun. Lifeguards, food trucks, facilities, and on-site beach equipment rentals.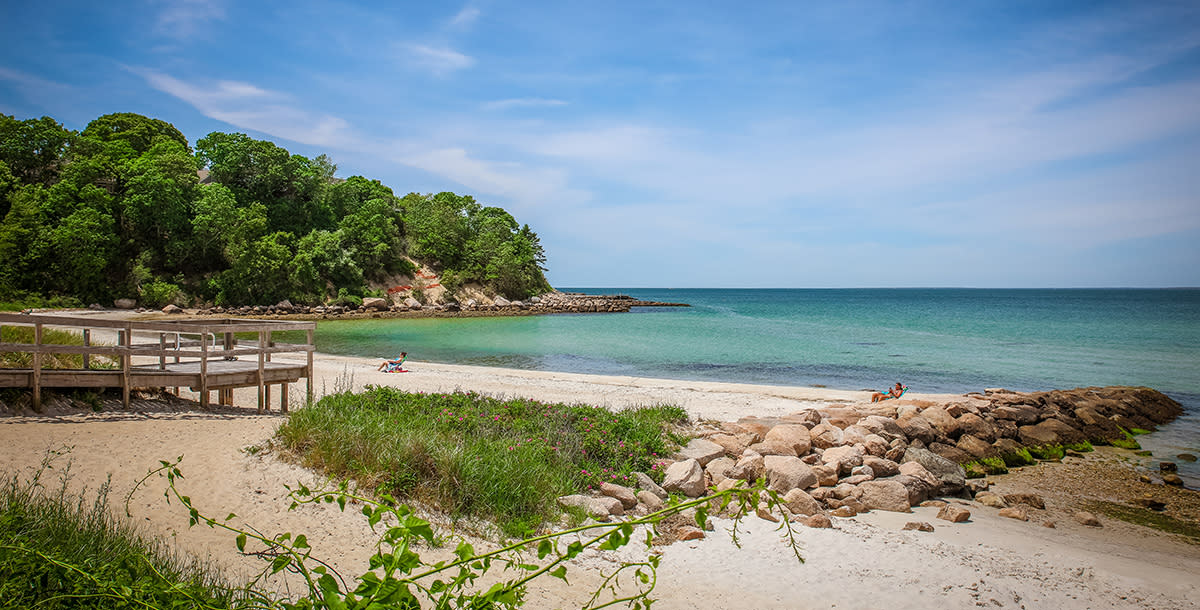 Old Silver Beach, Falmouth
Explore one of the Cape's most popular Buzzards Bay beaches known for spectacular views, powdery sand, and warm water. Divided into two sections by a rock jetty, Old Silver Beach in Falmouth offers families plenty of parking, bathhouses, and snack shacks on both sides. Old Silver's clear, shallow waters make it easy for kids of all ages to spot marine life. Plan for an epic sunset at this west-facing location to cap off your day!

Marconi Beach, Wellfleet
Soak up the National Seashore at this pristine beach with sweeping views of the Atlantic, towering dunes, and sandy cliffs. A set of wooden stairs next to the large parking lot descends a steep bluff to the water where families can lay claim to a slice of paradise and ride the amazing waves. Kids love to play on the exposed flats and sandbars at low tide, the ultimate place to unplug surrounded by sea and sky. Lifeguards, restrooms, and outdoor showers on-site.
Coast Guard Beach, Eastham
Consistently ranked one of the top beaches in the country, this Cape Cod National Seashore gem gets high marks for its expansive stretch of golden sand, rugged beauty, and mesmerizing waves. Adventure awaits at this surfing and boogie board haven where families can spend hours enjoying the sun, sand, and seals. Getting here is half the fun in the summer months, when vehicle parking is off-site. Take a quick shuttle ride from a nearby parking lot, or bike or walk the breathtaking Nauset Marsh Trail from the Salt Pond Visitor Center.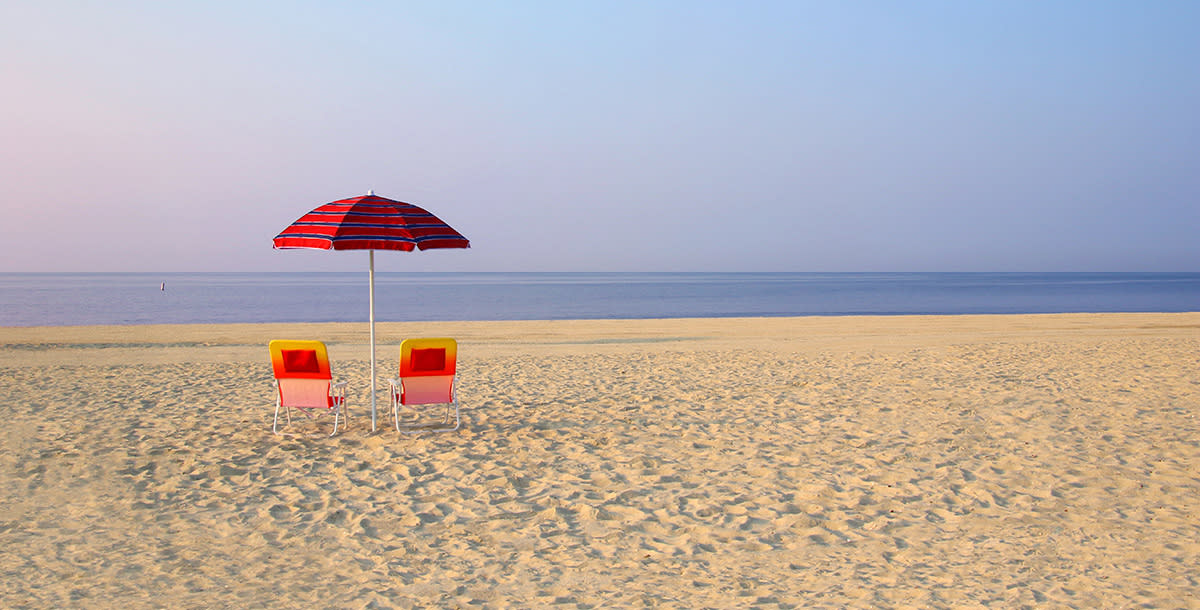 Seagull Beach, Yarmouth
A short stroll across a boardwalk will bring you to Seagull Beach, a southern-facing Nantucket Sound gem where you can spend the day enjoying water sports and playing family favorite beach games on the soft, white sand. A hub of activity for beachgoers and windsurfers, and a mecca for seashells and horseshoe crabs promises a day full of excitement and fun in the sun. Convenience tops the list of reasons to love this family-friendly beach with ample parking, a bathhouse, and concession stand with picnic tables.

Skaket Beach, Orleans
Visit one of Cape Cod's prettiest bayside beaches situated just off the beaten path in Orleans, renowned for its tidal flats you can walk along over a mile at low tide. Kids on the move will keep busy for hours splashing around in the warm, shallow waters perfect for high-tide swimming and exploring tidal pools full of crabs, starfish, mussels, and other marine life. Words can't describe the sky at sunset, one of the Cape's best-known viewing spots. 
Herring Cove Beach, Provincetown
Daytrip to the tip of the Cape, where you'll find the only Cape Cod National Seashore beach on the bay side, just a few miles from downtown Provincetown. Spectacular views, sand dunes, and miles of shoreline for kite flying, beachcombing, and sunbathing make this an Outer Cape family favorite. Spend the day in the calm surf and kid-friendly waters, keep an eye out for whale sightings from the shore, then refuel at the modern beachside facilities.