There are some days that only a burger will do. When those cravings hit, here are the most flavorful and unique burgers for an absolutely decadent lunch or dinner! Don't worry about feeling guilty, you can always order a side salad to balance things out.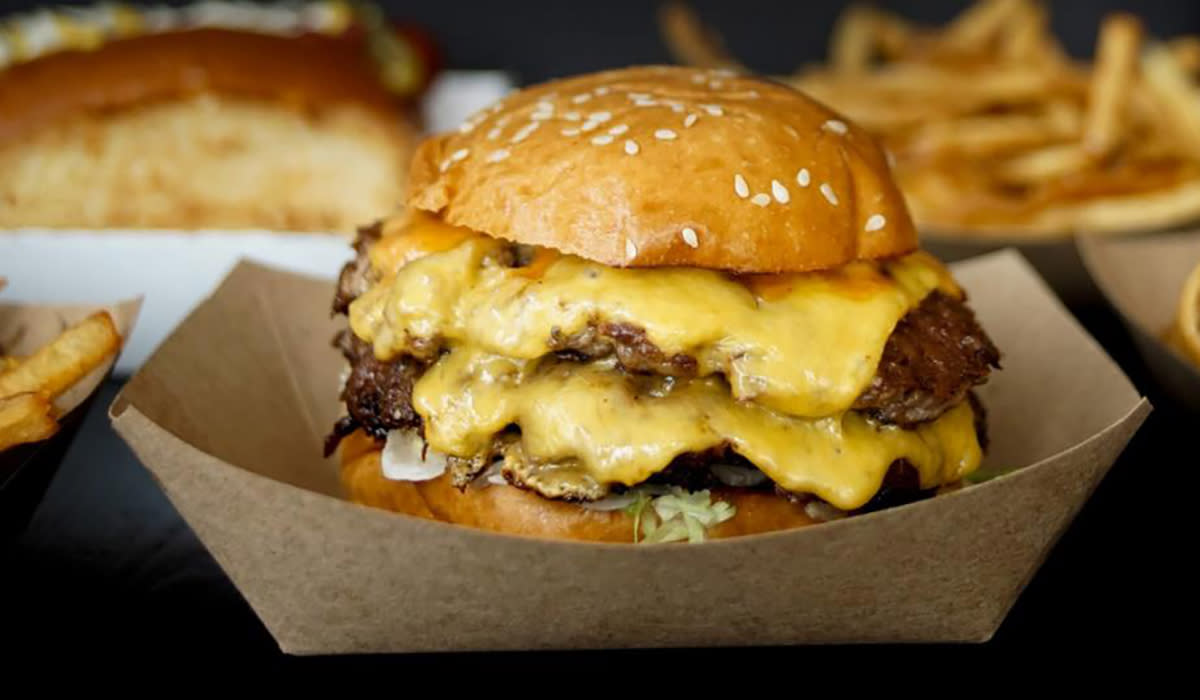 Mom & Pops Burgers in Chatham prides itself on using the highest quality, freshest ingredients in its burger prep, and that includes sourcing its Black Angus beef from the country's top beef purveyor. Burgers range from the California Burger and the Bacon & Blue Cheeseburger to the hot & spicy El Dyablo Burger (surpassed in hotness only by the Naughty Dyablo Burger). Insider's Tip: Though known for their burgers, their hot dogs and hand-cut fries are equally noteworthy.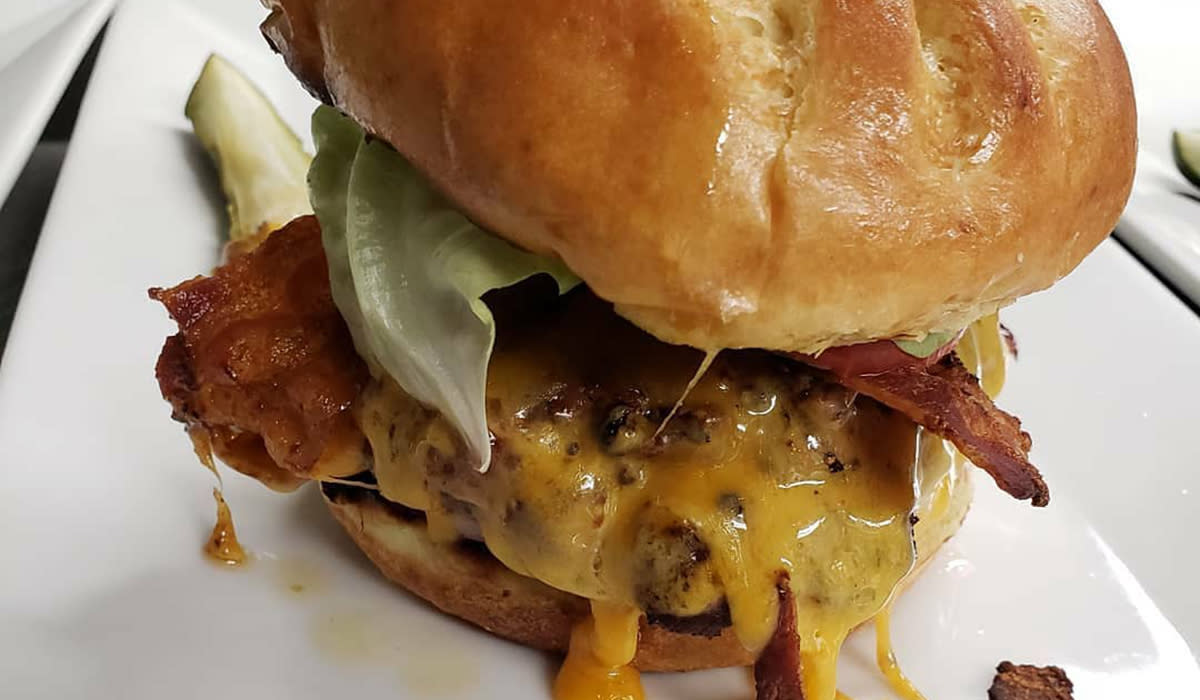 If upscale pub fare is what you want, try out Gannon's Tavern in Hyannis. Their classic grilled burger is a standout on the menu, as is the Patty Melt, a ground steak burger smothered in cheddar cheese, sauteed onions and cheese sauce on marble rye You'll also find a lengthy beer list, with more than eight varieties on tap.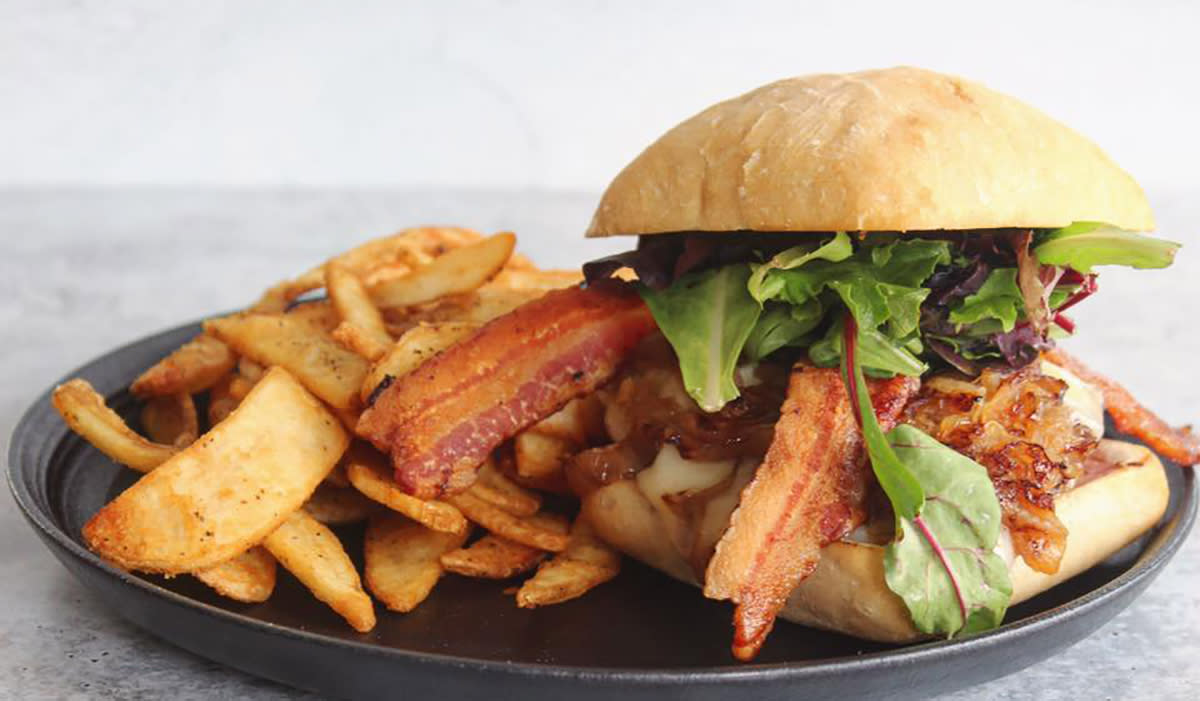 While Cape Cod Coffee Cafe in Mashpee Commons may be best known for their freshly roasted coffee, their hamburgers make for a satisfying meal. Savor the mouth-watering SUP Burger, a 1/2 pound burger topped with caramelized onions, cheddar, tomato jam and mixed greens on a grilled brioche roll. Their menu also features a different specialty burger each week, including the crowd favorite Bourbon Bacon Cheeseburger, an 8 oz Angus burger with melted Pepper Jack cheese, crispy onion strings and bacon, topped with homemade bourbon glaze.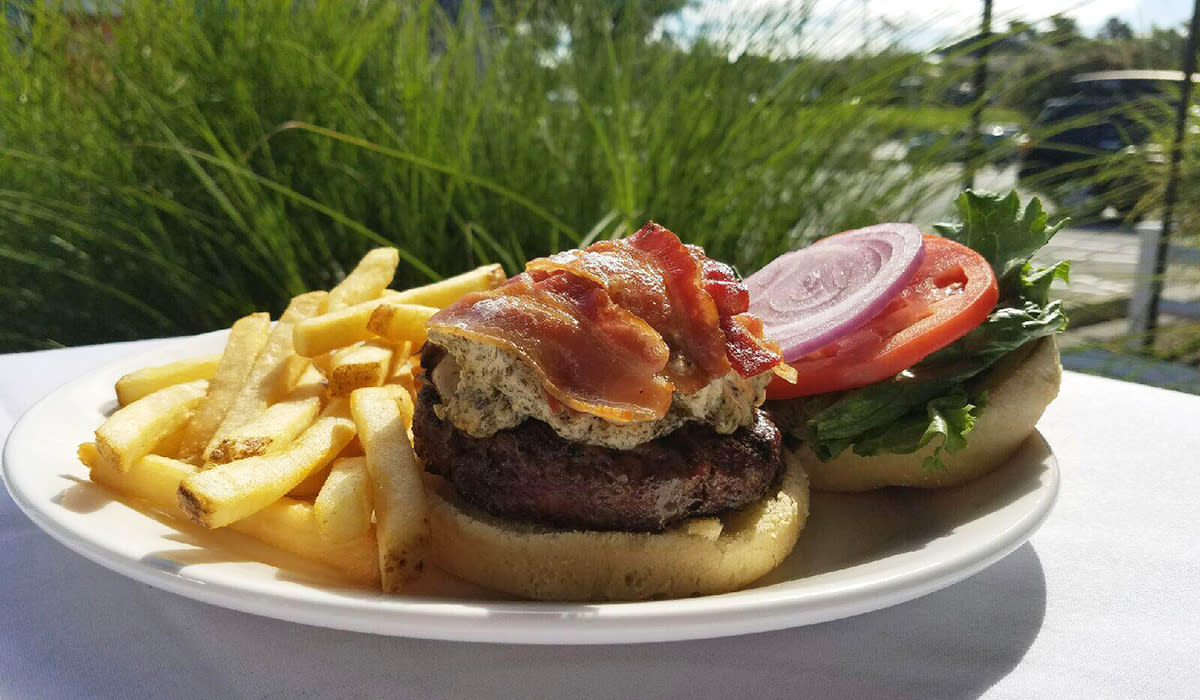 400 East Restaurant & Bar in East Harwich is a great find for grilled thin crust pizzas, charbroiled steaks and Sunday brunch, but their 1/2 lb burgers are the star of the show. Ground fresh daily, the burger selection includes such tasty options as the Tennessee BBQ Burger (cheddar cheese, bacon whiskey and caramelized red onions) and the Famous 400 Burger (smothered in mushrooms, bacon and boursin cheese).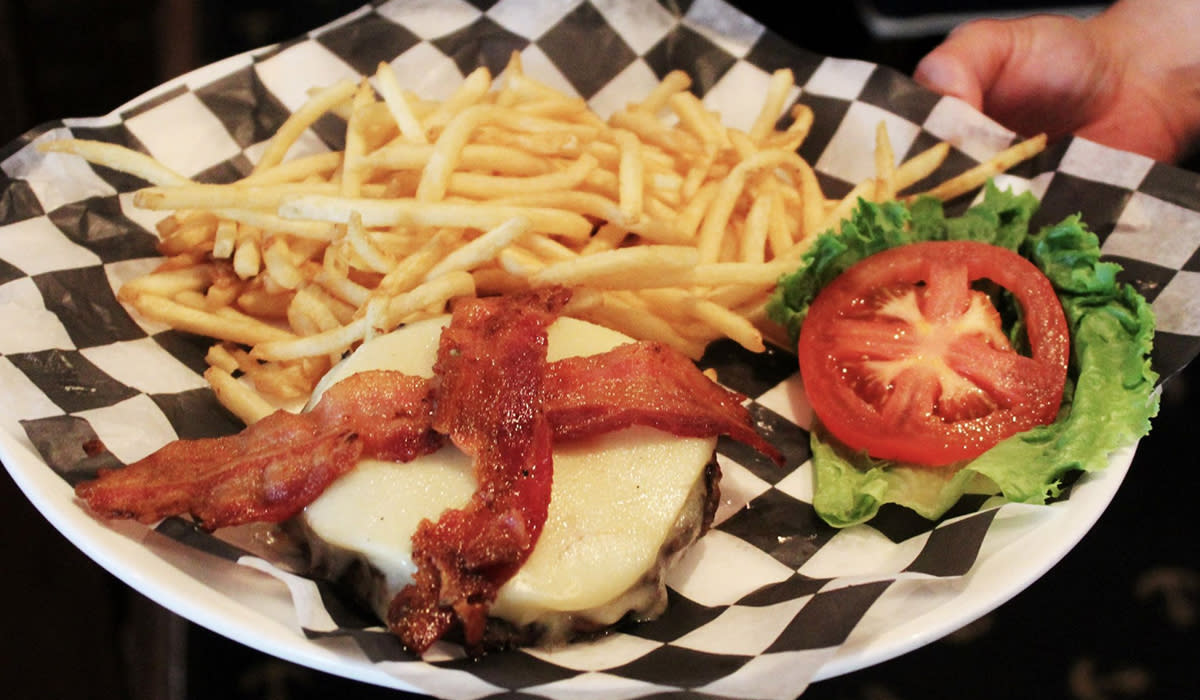 I hope you're hungry, as Black Cat Tavern in Hyannis dishes up a half a dozen burgers to suit all appetites. The casual waterfront eatery goes big with the Double Stack, featuring two Angus patties lettuce, tomato, cheddar cheese, bacon and fried onion rings on a pretzel bun. If you really want to gild the lily, try the Hyport Burger, with pepper jack cheese, caramelized onions, steakhouse bbq sauce on a brioche roll. There's also a veggie option and more classic varieties such as a half-pounder with cheese and bacon.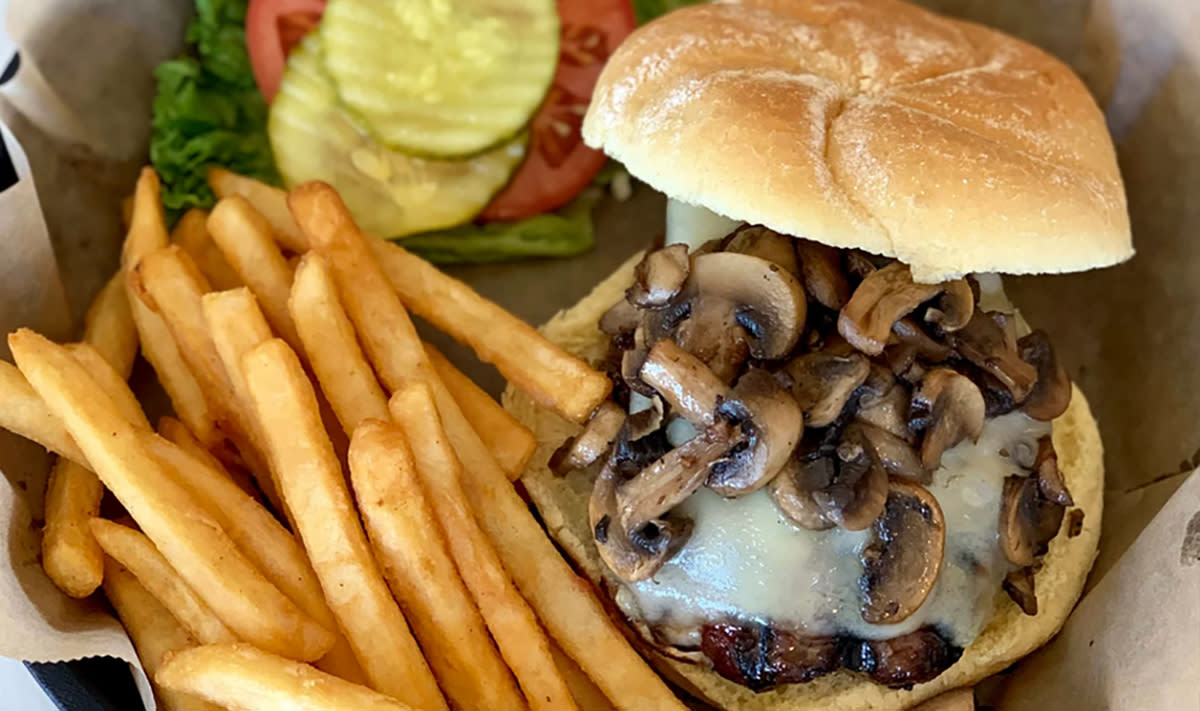 Whether you're stopping in for lunch while out shopping or have a hankering for comfort food, Bobby Byrne's (Mashpee, Sandwich and Hyannis) has a menu full of classics. The burgers are robust and served on bulky rolls. Build your own Angus burger, or choose from house specialties such as bacon jalapeno, mushroom Swiss, Texas-style chipotle, or a southwestern veggie burger. Thirsty? A pint of Guinness is the preferred house drink.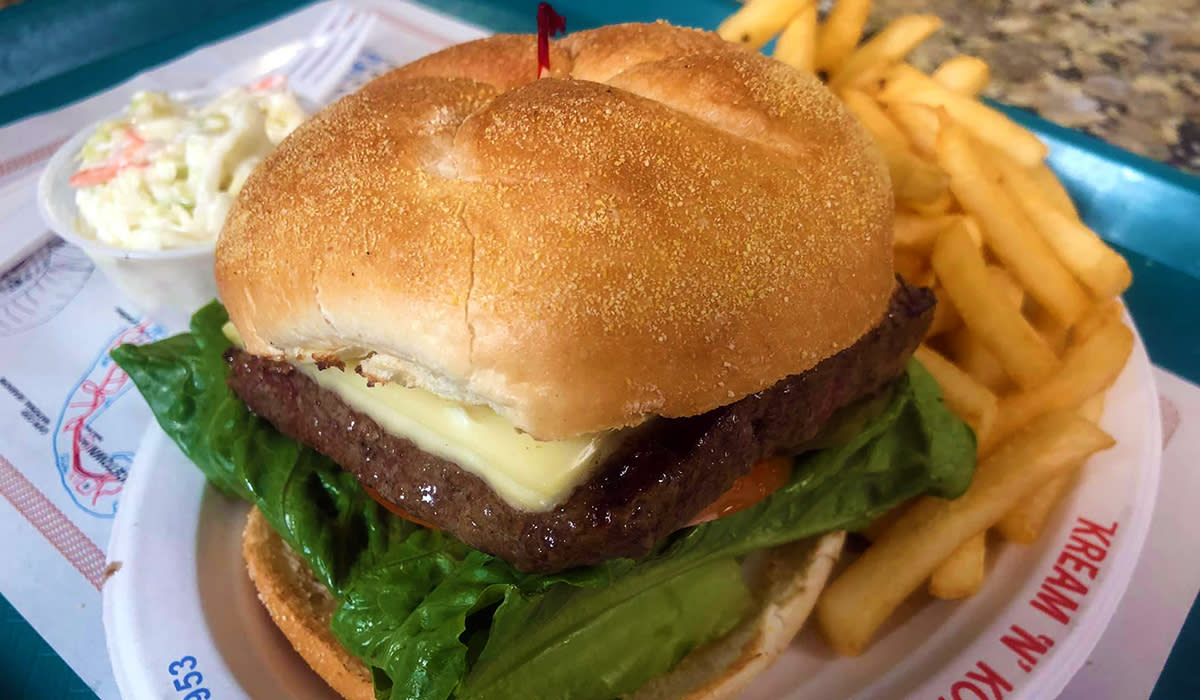 If you want every day to be a beach day, grab lunch or dinner at Kream n' Kone in West Dennis. While they are best known for their award-winning fried clams and onion rings, you can't go wrong with one of their truly decadent 1/3 pound burgers (they also serve salmon burgers, which are equally tasty). Follow it up with one of Kream n' Kone's soft serve ice cream cones and you're in heaven.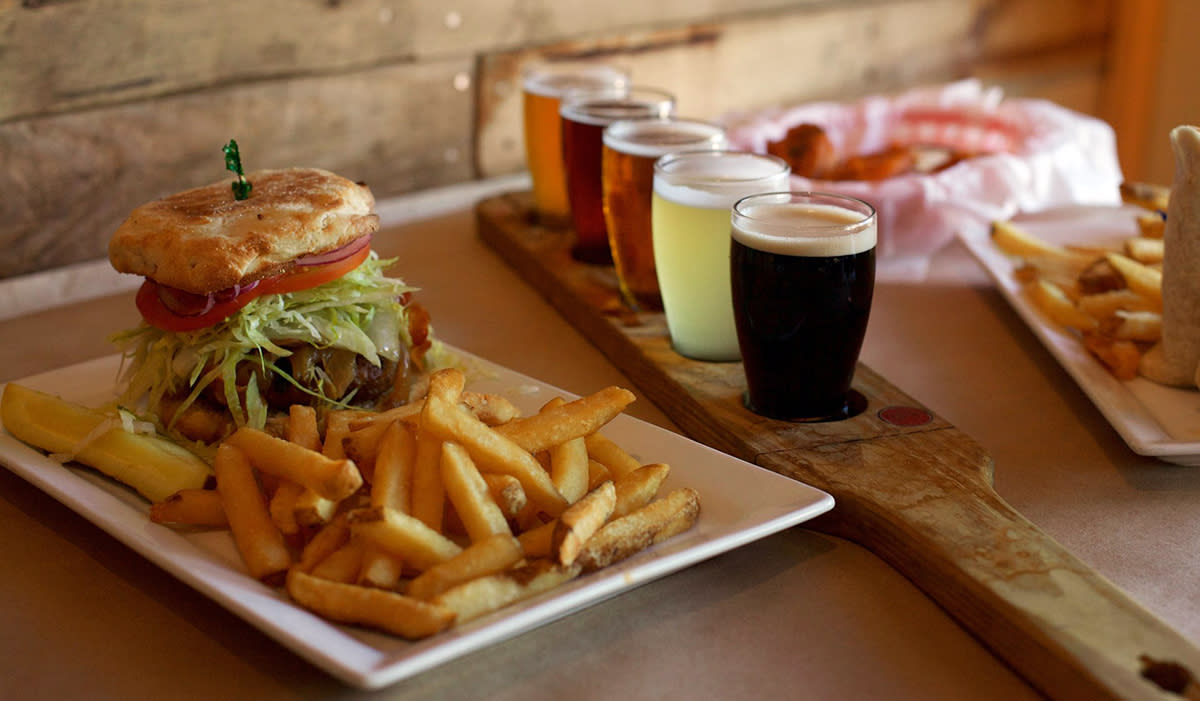 The Red Nun Bar & Grill (Dennis Port and Chatham) serves up hand-packed Angus burgers on giant English muffins. With more than ten combinations including bacon, marsala, Thai and even vegan, they've got all your cravings covered. And don't forget the sides, they've got fries and onion rings to make the meal complete. Make sure to try out their famous fried lobster starter -- a modern take on a New England classic.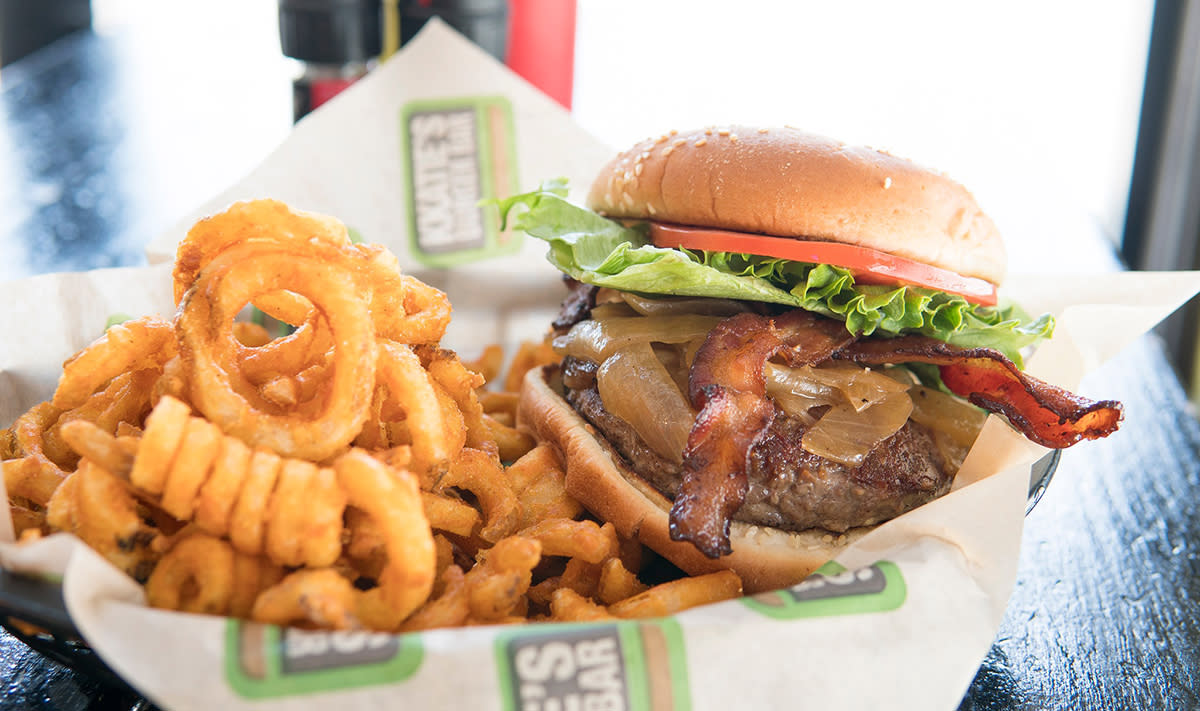 KKatie's Burger Bar in Hyannis advertises itself for those with an "aggressive appetite" – and there's good reason. Their angus burgers are hand-pressed fresh daily, and feature such beauties as the Double Decker Melt (pressed between two grilled cheese sandwiches) and the Pickle Back Burger (smothered in Jameson BBQ caramelized onions). The star of the show, though, is "The Rock" - featuring four quarter-pound burgers, each stacked with cherry wood smoked bacon and American cheese, then topped with crispy onion rings and KKatie's special sauce. Try that on for size.